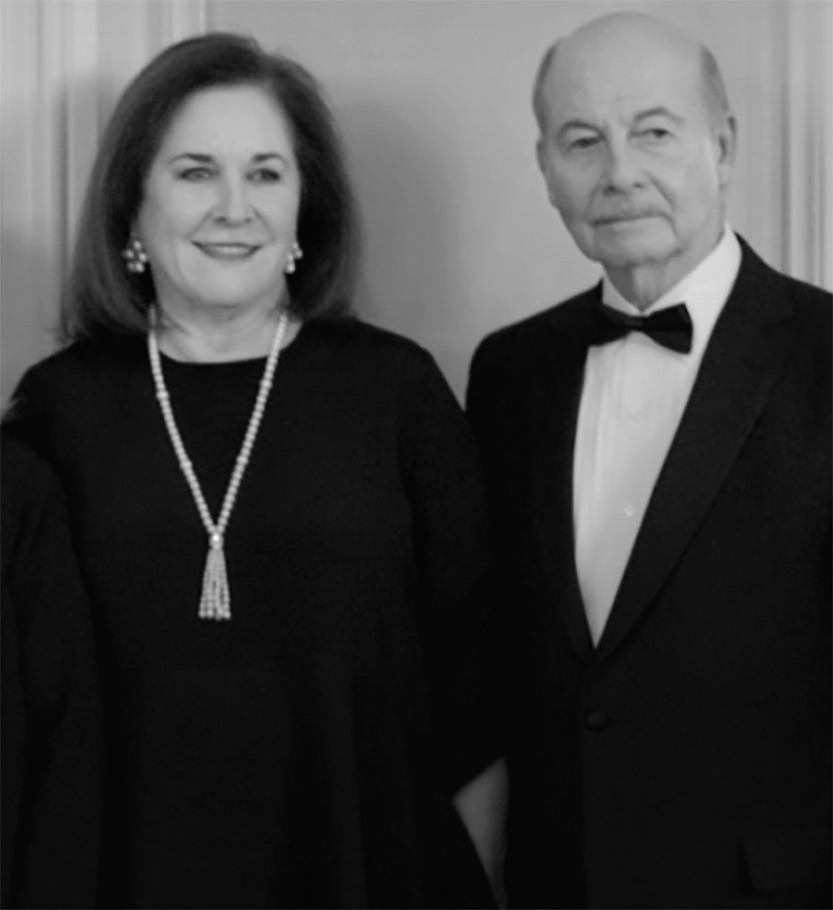 Anne Gilmore Simms Pincus, a native of South Carolina, has been a New Orleans resident since entering the Newcomb College Art Department in 1966. She was graduated from Sullins College in Bristol, VA, where she majored in Fine Arts, and also from Katharine Gibbs School in New York City. She is married to Ronald Pincus, shown here with her at the 2017's 20th anniversary celebration of Words & Music. They have two sons, Alexander and Miles.
As president and founder of Cajun Mardi Gras, Inc., Anne operated two Louisiana arts and crafts gift shops in the New Orleans Louis Armstrong International Airport from 1985-1996. She then founded and operated New Orleans Famous Praline Company on Royal Street until its sale was inspired by Hurricane Katrina. Anne's exciting hospitality
business catered mainly to tourists who visited the French Quarter. Her pralines and gifts were featured in a 30-minute nationally televised program on the Food Network, and her candy was selected by Southern Living magazine as one of the "Best Pralines in New Orleans." Anne's recipe for Praline Sweet Potato Souffle was included in the New York Times best selling book, Sweet Potato Queen's Big Ass Cookbook. At the Royal Orleans Hotel Anne assisted in all phases of hotel management. As coordinator for VIP events and special services, she had responsibility for aspects of 11 United States Vice-Presidential visits, many dignitaries and royalty, entertainers and athletes. She also worked in public relations and advertising with Nathan and Associates, and Reeves-Pincus and Associates in New Orleans as well as Sinay and Associates in Los Angeles. Upon her return to New Orleans she was employed at the law firm of Stone, Pigman, Walther and Wittmann. She also worked in Civil District Court for the Parish of Orleans. She has given loyal volunteer service for far too many important and highly diverse organizations to list here, a who's who, what's what A-List.
We will tell you, of course, that she has been in the trenches with the Faulkner Society since its early days and that without her unflagging support, the Society might well have fallen by the roadside and been unable to pick itself up and start over again, especially after heavy financial blows dealt by two hurricanes. She has an innate ability to cut straight to the bone of common sense and her advice is always invaluable. Anne is currently Chairman of the Executive Board of the Pirate's Alley Faulkner Society. Previously she was on the Board and a sponsor of the Words & Music Literary Festival and she has given ongoing support to the William Faulkner-William Wisdom Creative Writing Competition.
Anne Pincus has been the Society's Tiger Mom for more than 20 years. She is… A Legend in Her Own Time!