THE PIRATE'S FAULKNER SOCIETY WILL RESUME ITS ANNUAL CALENDAR OF LITERARY EVENTS FOR READERS AND WRITERS ON SEPTEMBER 22, 2023 AND
YOU ARE INVITED TO JOIN US!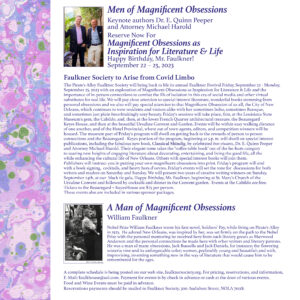 WILLIAM FAULKNER – WILLIAM WISDOM
CREATIVE WRITING COMPETITION:
2021 Winners
While the Society did not state person to person events during COVID and its aftermath, the Faulkner  – Wisdom Competition
has continued and the winners for the 2021 are announced here. They
will be presented with winners from the 2020 competition on Sunday, September 24, 2023, at Happy Birthday, Mr. Faulkner! The black tie gala will take place at  the historic Ursuline Convent in the Vieux Carre of New Orleans. All winners are our invited guests for all events of the Faulkner Festival weekend,
September 22 – 2025, 2023.

NOVEL
Winner
Rogues & Sinners: A Story of Beginnings
Victoria Ryan, New Orleans, Louisiana
Equal Runners-Up:
Requital, Frank Porter, Cambridge, MA
The Air Between Our Tubs, Justin Swingle, West Hollywood, CA
The Invention of Violet, Amy Boutell, Springfield, OR
Others on the Short List
After You've Gone, Walter McCloskey, New Orleans, LA
Like Water, Peter McDougal, Atlanta, GA
The Water House, Nneoma Ike-Njoku, Athens, GA

NON-FICTION BOOK
Winner
Small Altars
Justin Gardiner, Hamilton, GA
Equal Runners-Up
A Road Less Traveled, Randy Denmon, Monroe, LA
Stalwarts, David J. Kennedy, Bronx, NY
Others on the Short list
Diary of a Recovering Doormat, Christine Poythress, Madison, TN
Full Circle: A Hands On Affair with the First Ferrari GTO,
Petra Perkins, Highlands Ranch, CO
Killing Closet, V. L. Brunskill, Richmond Hill, GA
NOVELLA
Winner
Test Dogs
Benjamin Duffy, Fort Walton Beach, FL
Runner-up
Hugger, David L. Anderson, Boerne, TX
Others on the Short list
Posey's Ghost, Marilyn Moriarty, Roanoke, VA
Storyteller, Frank S. Johnson, Greenfield, MO
SHORT STORY
Winner
Quiet Men
Jean-Marc Duplantier,  New Orleans, LA
Runner-Up
Uncle Edgar and the Tintinnabulation of the Bells, S.A. Slosberg,
New Rochelle, NY
Others on the Short List
Baby Doll,
Belle's Homecoming,
Confessions of a Horse Renderer, David L. Anderson, Boerne, TX
Didn't Want to Say I Told You So
Great American Scream Machine
Mississippi
Thanks for Stopping
The Coming Out Table
The Double Doodle Mantra, S. A. Slosberg, New Rochelle, NY
Who am I now?
NOVEL-IN-PROGRESS
Winner
The House by the Water
Victor Wei Ke Yang, Lexington, KY
Runner-up:
The Petrova Project, Brenda L. Horrigan, Vineyard Haven, MA
Others on the Short List
American Heroine, Katherine Lim, London, UK
ESSAY
Winner
There's a Yankee in My Garden
Jane Kahramanidis, New Orleans, LA
Equal Runners-up
Stuck in Lo Debar, Julie Klein, Desmoines, IA
One Writer's Beginnings, Circa,1955, Rosemary Daniell, Savannah, GA
What to Pack in a Hospital Bag, Janine DeBaise, Kirkville, NY
Others on the Short list
Belly of the Armadilla. Lottie Brent Bogan, Jackson, MS
Crypto Mining, M. D. Veritas, New Orleans, LA
Roots in the Inquisition, Lynn Ditchfield, Edgartown, MA
Synchronicity, Karen Foresti Hempson, Skaneateles, NY
That Cute Laughing Girl, S. A. Slosberg, New Rochelle, NY

POETRY COLLECTION
Winner
Phaeton's Wheels
Dennis Fomento, Slidell, LA
Equal Runners-up
Pre-owned Odyssey and Rented Rooms, Lawrence Rhu, Columbia, SC
Memories Lounge, Ujjvala Bagal Rahn, Savannah, GA
Others on the Short List
Leave-Taking, Camille Carter, Chinook, MT
Touch, Gynn O'Gara, Sebastopol, CA
INDIVIDUAL POEM
Winner
Superman Sarajevo
Laura Joyce-Hubbard, Highland Park, IL
Equal Runners Up:
Duplicity, Tina D. C. Hayes, Lexington, KY
Say his Name, Too, Terry Edmonds, New York, NY
Solid Jackson, Dennis Fomento, Slidell, LA
Others On Short List
These Crowded Streets, Kristen Hipke Schorp, New Orleans, LA
Interior Design, Christine Poythress, Madison, TN
SHORT STORY BY
A HIGH SCHOOL STUDENT
Equal Winners
Father's Joy
Julie Chou, Beijing, China
Trinkets for the Dead
Sidne Gard, New Orleans, LA
Equal Runners-Up
A Mouthful of Bloody Teeth, Deja Robinson, New Orleans, LA
Our Days with Nicollete Jones, Maya Wandrei, New Orleans, LA
Potomu, Sonja Mehta, Dublin, OH
Others on the Short List
A Thousand Sons, Lochlan Krupa, Port Townsend, WA
Last Chance, Sonja Mehta, Dublin, OH
For a list of others who placed, click on:
2021 Competition Continued
For a list of the 2020 Winner, click on:
2020 Winners
HAPPY BIRTHDAY, MR. FAULKNER!
2022 Festival, Save the Dates:
September 23 – September 26
Note: The 2021 Festival was to have had the same theme we were planning for 2020:
The Impact of the Classics on Life, Literature, & Music
Because of the Dangerous Spike in COVID cases, that Theme Must Wait until 2022!
While presented the Faulkner – Wisdom competition for 2020, we were not be able to stage the Faulkner Festival. We will present 2020 winners at the 2021 festival with 2021 winners. 2020 AN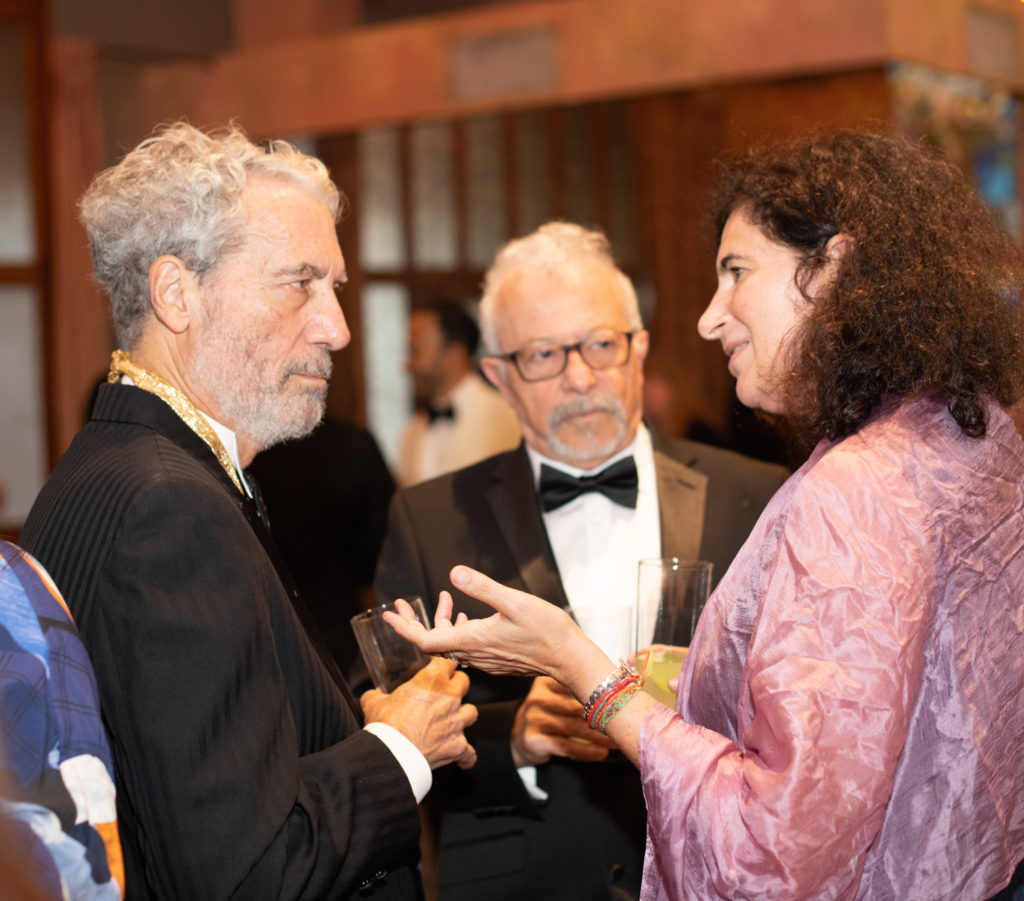 D 2021 winners and attending runners-up and finalists will be presented at  Faulkner for All, the Society's gala 30th annual meeting on Mr. Faulkner's birthday, September 25. Pictured at left are two of the 2019 Competition judges—Rodger Kamenetz, Poetry Collection, left; AndreiCodrescu, Non-Fiction Book—with Celina "Cindy"  Speigel, one of the nation's legendary literary editors recently turned literary agent, who was a critiquing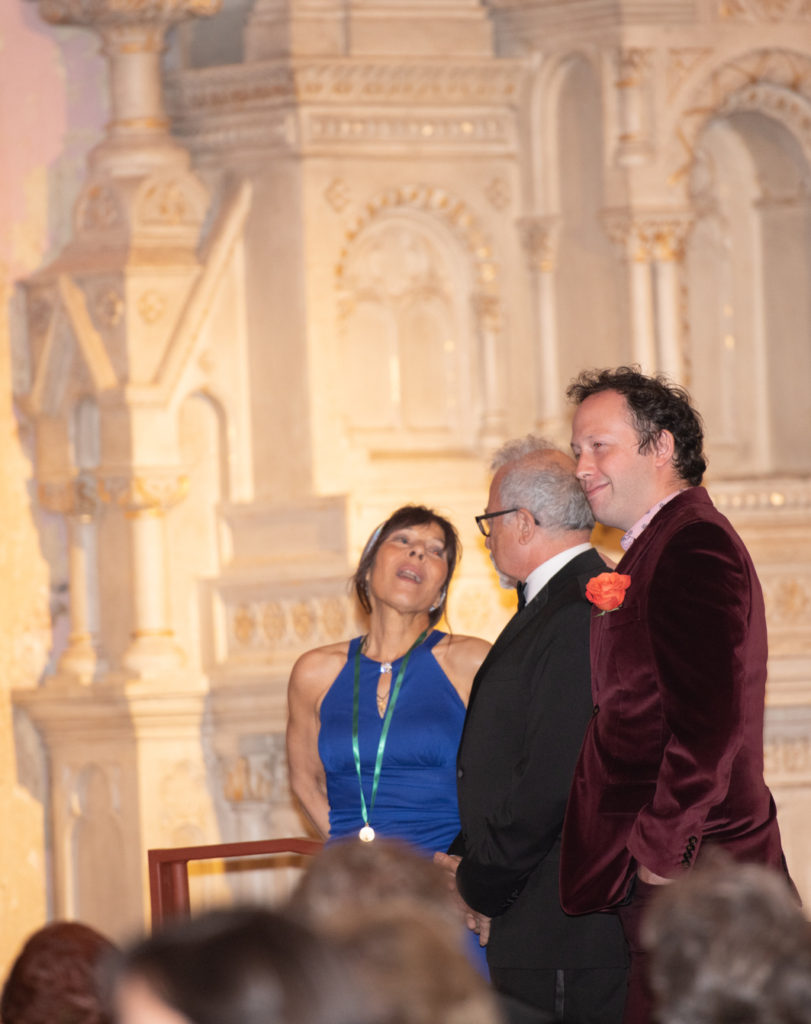 faculty member for the 2019 festival featuring Faulkner's The Wild Palms as focus book for the festival. We have highly qualified professionals like these again for the 2021 judges and critiquing professionals. Rodger Kamenetz, who created the Poetry Collection category, judged the individual poetry category for 2020 and will once again be judging the collection for 2021.  Codrescu, center, is shown presenting his winner, Catherine Raven of Emigrant, MT, and runner-up, Benjamin Aleshire of New Orleans. Catherine was signed by Cindy Speigel for her non-fiction book
Wild Tail and has been working with Catherine
for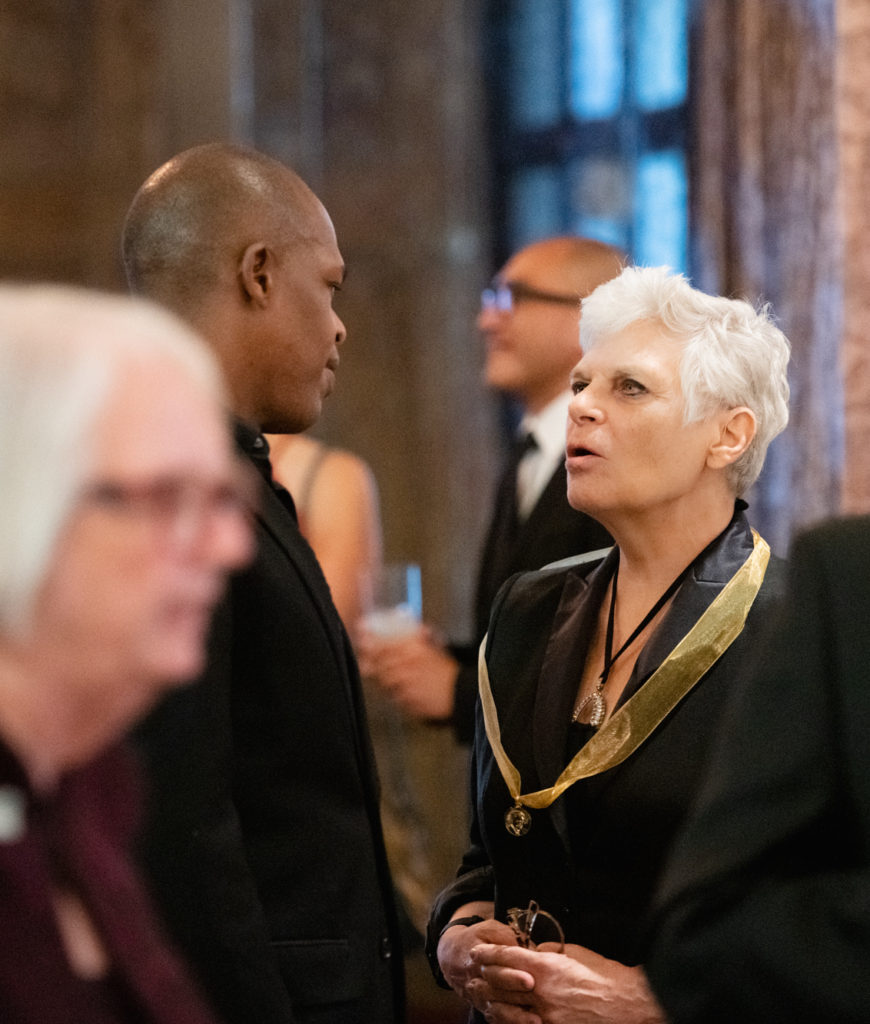 the last year, getting ready to offer the book for sale. This year, Cindy is judging the novel competition.  Authors Maurice Carlos Ruffin and Moira Crone are shown below left. Moira, who previously won gold medals for both the Short Story (Dream State) and Novella (The Ice Garden) categories, is a distinguished fiction writer of such works as the story collection What Gets Into Us and the novel, The Not Yet, was recognized for her body of work with the  Robert Penn Warren Award. She has judged several categories of the competition and selected Maurice to win the gold medal for Best Novel-in-Progress. His novel, We Cast A Shadow, has since been completed and published by Random House to widespread national literary acclaim.  Maurice judged the 2019 Novel-in-Progress category  and Moira judged the 2019  Novella category.  Moira also found an agent for her new novel in the works, Maddie Duell, through the Society's festival. She is working with literary agent Lisa Leshne,  who was a critiquing agent for the festival. The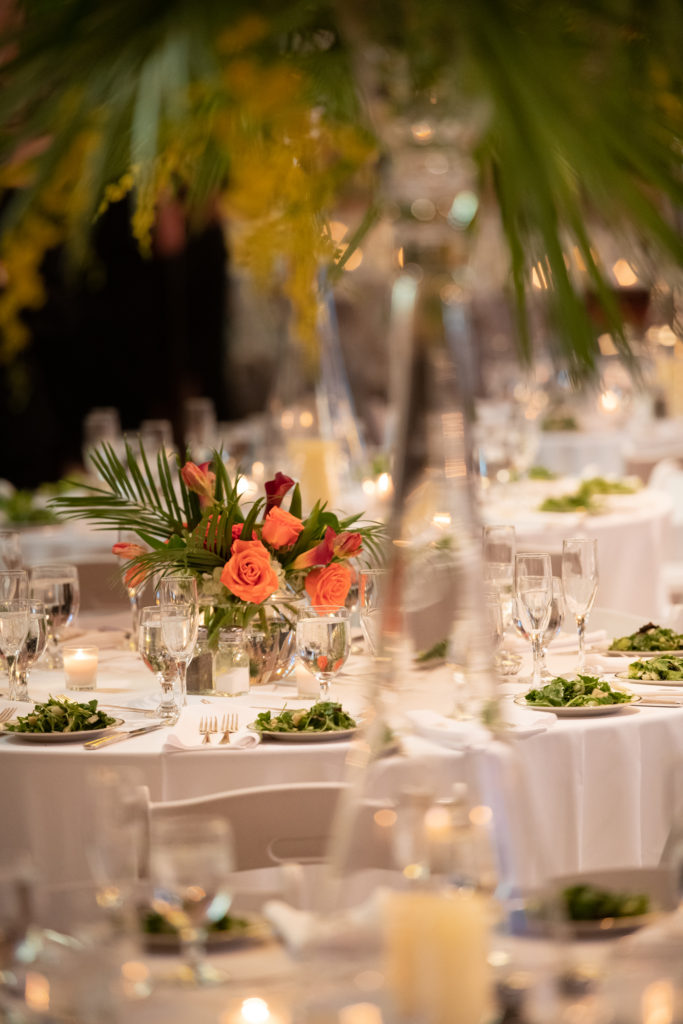 2019 gala, presented at the exquisite Peter and Paul boutique hotel, was described by long-time attendees as the best ever.  We have begun work to make the 2021 festival even more enlightening and entertaining for writers and their readers.
In 2021, advice sessions and manuscript critiques for registered writers will take place from 8:30 a. m. to 4:30 p.m. on the 25th and 8:30 to 10:00 a. m. on the 26th and 27th, with literary discussions beginning daily at 10:30 both days. In addition to opening sessions on the 24th, there will be literary discussions from 10:30 to 5:30 on the 26th; and 10:30 to 3:30 on the 27th. In the meantime, we need your support and encouragement to keep the Society afloat until Louisiana and, specifically, New Orleans is healthy again. Please consider joining the Society. Membership fees can be paid on the secure "Order" page of this site.
To get a comprehensive idea of the festival, Society annual meeting and gala, Click Here for a low resolution pdf copy of the 2019 festival program.
2019 SILVER SPARROW BIG READ STAR: BESTSELLING AUTHOR TAYARI JONES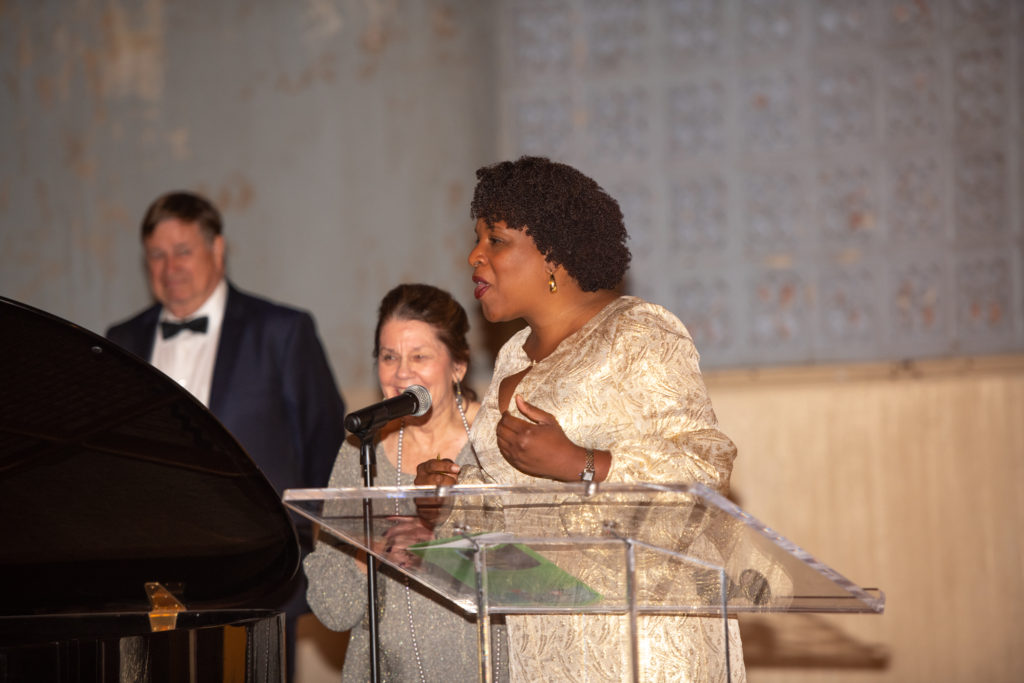 The Faulkner Society has had the good fortune over the years to be selected by the National Endowment of the Arts and its administrative partner Arts Midwest to create a number of BIG READ projects, designed to break the dreadful cycle of illiteracy that plagues America by encouraging youngsters to delve into good literature. Envisioned originally by First Lady Laura Bush, BIG READ was created in the wake of an important national survey which revealed that functional illiteracy was increasing dramatically in the United States.
The NEA created a list of of literary works it considers essential reading.  Each year various non-profits compete for grants from NEA to create projects focusing on a book on the NEA list, some contemporary and some classics by authors of the past. In 2019, the Society selected Silver Sparrow by Tayari Jones, whose more recent bestseller was an Oprah selection, An American Marriage. Ms. Jones was a sell out hit with Faulkner Society audiences, scheduling her key appearances concurrent with the Happy Birthday, Mr. Faulkner! festival. For more on this important NEA program, click on BIG READ. For more on Ms. Jones, Click here

SPRING CONCERT SERIES TO RESUME FOR
2024 LENTEN SEASON
The Faulkner Society's annual prelude to the celebration of Easter—six free public concerts featuring major types of the music created and enjoyed by New Orleanians for three centuries—opens traditionally a week after Fat Tuesday. The 40 days following Mardi Gras day make up the Lenten season, which opens on Ash Wednesday, a period when Christians reflect on the meaning of Christ's death on the Cross and characterized by abstinence and charitable outreach to the disadvantaged. The concerts are free with expenses underwritten by patrons in advance. Voluntary collections taken at the end of each concert benefit the poor. We were unable to stage the series as a Lenten series in 2020  or 2021 because of the pandemic.  We hope now to reboot the concert series for Spring, 2022, assuming a positivepandemic status. The beneficiary of the next series, regardless of timing, will be St. Jude Community Center, one of the city's most important resources for servicing the poor. Venue for the series is St. Mary's Chapel of the historic Ursuline Convent. The chapel has extraordinary accoustics and is provided to the series by the Society's partners, The Archdiocese of New Orleans and St. Louis King of France Cathedral Basilica.  Proceeds from the concert series always are designated for charities which support the indigent.
The Theme for the Next Series
The 2022 theme will be The Amadeus Syndrome: The Influence of the Classics on Contemporary Music.

The Society is actively soliciting donations from individuals and funding agencies so that the series can continue to be offered free to the general pub lic and we can continue to serve the poor of New Orleans.

 THE FAULKNER SOCIETY
The Pirate's Alley Faulkner Society, a nationally recognized non-profit arts organization, is a 501 (c) (3) literary and educational institution and, as such, grant donations, membership contributions, and contributions to our fundraisers are fully tax-deductible.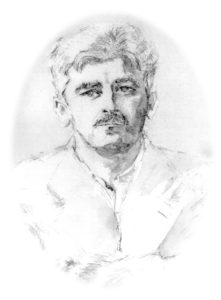 Important projects of the Faulkner Society include:
The Double Dealer literary journal.

Outreach programs for high school and college students.

Literacy projects in cooperation with other organizations, including BIG READ projects funded in part by grants from the National Endowment for the Arts.

Continuing education programs for writers and readers.

A year-round calendar of literary events—such as My New Orleans and Meet the Author.
The William Faulkner-William Wisdom Creative Writing Competition.
Happy Birthday, Mr. Faulkner!, our annual four-day founders celebration honoring our namesake, Nobel laureate William Faulkner, saluting all great writers: past, present, and yet to come. 
Our programs are designed to honor and assist writers, provide high quality literary entertainment for general public readers, and combat the growing national disgrace of illiteracy. Many of our programs are offered free or at discounted rates to students and the general reading public, with special programming benefits for members and sponsors.

A New Generation of Services to Readers
The Faulkner Society was created in 1990 with a mission of providing realistic assistance to developing writers, creating literacy initiatives and continuing education for adults in literature and writing, and presenting high-quality literary programming for readers. One overall goal has been to help enhance the national image of New Orleans as a cultural and intellectual destination. Our programming year begins annually with our founders celebration, including William Faulkner's birthday, September 25th. We will complete our 30th year on September 25, 2020.
Membership Drive is Underway Now
If you have not already become a member or sponsor in the current programming year, come join us as we continue our new generation of literary services for readers and writers. We invite you to become members of the Society and secure the Society's future. For membership levels and benefits, please
Email: faulkhouse@aol.com

Note:
Memberships include invitations to all events, both ticketed and free, public events. Annual free events include our series of free, public concerts organized to benefit the poor of New Orleans which take place on Tuesdays during Lent at the historic Ursuline Convent complex and our year-round calendar of free, public literary events in the two series Meet the Author and My New Orleans.
SUPPORT OUR LOYAL PATRONS AT
FAULKNER HOUSE BOOKS!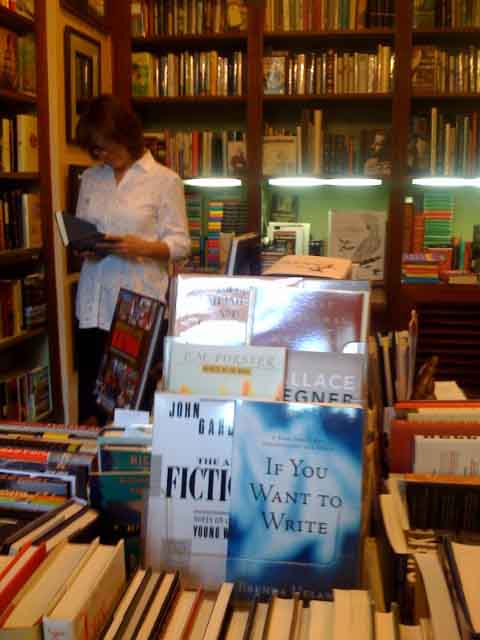 As many of you already know, the Pirate's Alley residence and business were sold to new owners last fall and Faulkner House Books is continuing operations under these most difficult of circumstances.  The new owners of the bookstore, Garner Robinson and Devereaux Bell, have pledged to continue the support the bookstore always has provided to the non-profit Faulkner Society. They have come up with a wonderful idea for dedicated readers utilizing the longstanding literary experience of store manager Joanne Sealy, a terrific reader and judge of good literature for a broad variety of reading tastes.  They have established a subscription service.  You can join at various levels and fill out a form that includes descriptions of the kinds of books you like and Joanne will select new books especially for you and send them to you monthly.  It's a great idea any time but now during this era of staying at home to stay safe, when reading is a great escape from our home prison cells, it is a fabulous way to get the books you want without getting in harm's way.  It's also a great way to help ensure that a great patron of literature, Faulkner House Books, is around to serve you and support the Faulkner Society when the plague fades into the background. For more information, contact Joanne at the bookstore, (504) 524-2940.  (Yes, the new owners are keeping their staff on in spite of the fact that the store itself…a space very tight for social distancing…is open with limited customers allowed to enter at any one time, straining the store's ability to reach its normal level of revenues.)
For now: keep on reading and writing and stay safe!
FAULKNER SOCIETY IMPACT
We have launched a major fundraising campaign to commemorate more than a generation of service annually to some 7,500 writers and readers and to our beloved City of New Orleans, which was 300 years old in 2018.  To help us continue the impact, e-mail us at faulkhouse@aol.com. We welcome offers of volunteer service as well as financial contributions. To join our number,  E-mail us at faulkhouse@aol.com for a membership form and membership benefits summary.
Major Projects
The Society's most ambitious annual undertakings are:
William Faulkner – William Wisdom Creative Writing Competition.
Happy Birthday, Mr. Faulkner! This is a four-day literary celebration including our annual salute
to our namesake, our gala black-tie annual meeting and fundraiser, literary critiques, presentation of
new work by scholars and authors, and presentation of the winners of our international literary
competition.

Workshops, Master Classes, Manuscript Critiques for Developing Writers.
Literacy Initiatives for those At-Risk for Illiteracy, Including National Readathon Day, NEA sponsored BIG READ projects, and partnerships with the English Speaking Union and One Book One New Orleans.

The Double Dealer literary journal and Student Intern Program.
Free public sessions of Meet the Authors and My New Orleans events for dedicated readers.
Joint Ventures with other non-profits to embellish the Louisiana's available cultural resources. Joint ventures include major partnerships with other non-profit institutions and businesses.


TSave
Save