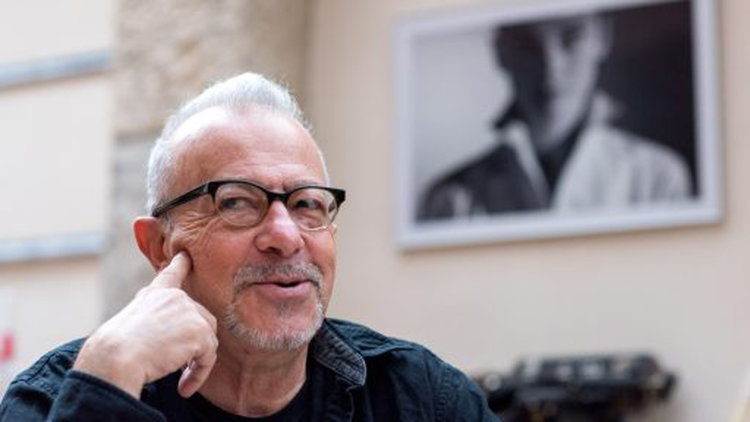 Andrei Codrescu is a celebrated poet, essayist, social commentator, fiction writer
performance artist, and longtime creative writing teacher. Andrei will appear at the annual
Happy Birthday, Mr. Faulkner! festival September 23-27, 2019, where he will read from and discuss his own work, critique work submitted by other writers, and present the winner he selects for the Narrative
Non-Fiction Book Category of the Faulkner – Wisdom Competition at the Society's gala annual meeting, which falls on our namesake's birthday, Nobel Laureate William Faulkner, born on September 25.

About the Author & His Work

Andrei Codrescu was born in Sibiu, Transylvania, Romania, where in the 16th century they burned witches, in 1989 they shot students, and where now citizens don't flinch when Europe's second biggest theatre festival sets off fireworks at midnight. He emigrated to Detroit in 1966 where a revolution was in progress. "Tanks of the 82nd airborne and National Guard shot at me for sticking my head out the window after the 6pm curfew. To avoid gunfire and meet poets, I moved to New York City in 1966. I didn't speak English, which made it easy to communicate with natives using sign language." His first poetry book, License to Carry a Gun, won the 1970 Big Table Poetry award, to the chagrin of my contemporaries who were great but, unfortunately, fluent. In 1983, he founded Exquisite Corpse: a Journal of Books & Ideas, taught literature and poetry at Johns Hopkins University, the University of Baltimore, and Louisiana State University (as MacCurdy Distinguished Professor of English). "I read fiendishly and used my vulgate and indo-european substratum to keep language from wasting away in the swamp of politico-psycho-bureaucratic trash. Since 1983, I've been a regular commentator on NPR's All Things Considered, because you can't live on fighting kitsch every minute." He received a Peabody Award for writing and staring in the film Road Scholar, which started out cute but ended up making people cry. In 1989, he returned to his native Romania to cover the fall of the Ceausescu regime for NPR and ABC News, and wrote The Hole in the Flag: an Exile's Story of Return and Revolution. After this return, he reconnected with Romania's majestic poetry, and started to write again "in my third language (German and Hungarian, respectively the first and second)." The result was a separate body of work in Romanian: poetry, essay, collaborations, criticism. English is still my primary language for books of poetry, novels, essays."
His most recent works are:
No Time Like Now (Pitt Series, University of Pittsburgh Press, 2019), his new poetry collection.
The Collected Japanese Ghost Stories of Lafcadio Hearn, which he introduced and edited (Princeton University Press, 2019
The Art of Forgetting: New Poems (Sheep Meadow Press, 2016)
Bibliodeath: My Archives (with Life in Footnotes) (Antibookclub, 2012)
So Recently Rent a World: New and Selected Poems (Coffee House, 2012)
Whatever Gets You Through the Night: a Story of Sheherezade and The Arabian Entertainments (Princeton University Press, 2011)
The Posthuman Dada Guide: Tzara and Lenin Play Chess, (Princeton University Press, 2009)
The Poetry Lesson (Princeton University Press, 2010)
A lot of books, but "I advise you to read them all or to get your friends to read parts of them, and then you'll have a picture of me. Crazy? Yes." We advise you
to read his work, too, and not just the recent works listed above. We are crazy ourselves about some of Andrei's earlier work, the titles of which you can find on his web site. http://www.andreicodrescu.com. Among our favorites are:
The Music is Always Half-Dressed in New Orleans, The Blood Countess (Novel), and Zombification.
His work, correspondence, notebooks, art works, and sundry documents are at the LSU Hill Memorial Library, the University of Illinois/ Champaign-Urbana's Slavic Library, the New Orleans Historical Collection, the University of Iowa's collection of Twentieth-Century Avantgarde Art, and in a shed in the Ozarks. "These repositories are filled with enough weirdness to keep one hundred grad students wearing out their keyboards. I'm prolific, but calm. I still have to make some movies."
Winner of the George Foster Peabody Award
Poetry Finalist for the National Book Award
Winner of the Ovidius Prize for Literature
Heritage Award from the American Immigration Council
Winner of ACLU Freedom of Speech Award
April 30 2019 – Founders of the Detroit Artists' Workshop
Third Man Records – Detroit MI
@acodrescu
RT @MikeTopp: https://t.co/pk1ToWFX0y
14 hours ago
@acodrescu
RT @luxante: New NYC cultural spaces opening soon: the Truss, the Stent, the Sac.