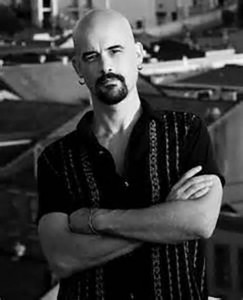 Bill Loehfelm,
Author of Doing the Devil's Work
About the Author
Bill Loehfelm is the author of the Maureen Coughlin crime fiction series from Sarah Crichton Books. The third installment, Doing the Devil's Work, was published in January 2015. The first and second books in the series are  The Devil She Knows and The Devil in Her Way—The Strand Magazine's 2013 Novel of the Year.
Other novels include Bloodroot (2009), and Fresh Kills (2008). Both are set in Staten Island, NYC.
Born in Park Slope, Bill grew up in Brooklyn and on Staten Island. After college in Scranton, PA, where he studied communications and English, he taught high school English on Staten Island. In 1997, he moved to New Orleans, where he has taught high school and college, worked in an antique shop, and done absolutely everything there is to do in the bar and restaurant business (except cook). He received his MA from the University of New Orleans in 2005. He plays drums in a rock n' roll cover band.
Bill lives in New Orleans' Garden District with his wife, A. C. Lambeth, a writer and yoga instructor, and their two dogs.
About Doing the Devil's Work
"You have a temper, Officer Coughlin, and a propensity for violence . . . You're a bit of a hazard. To others. To yourself."
Maureen Coughlin is a bona fide New Orleans cop now, and, with her training days behind her, she likes to think she's getting the lay of the land. Then a mysterious corpse leads to more questions than answers, and a late-night traffic stop goes very wrong. The fallout leaves Maureen contending with troubled friends, fraying loyalties, cop-hating enemies old and new, and an elusive, spectral, and murderous new nemesis–and all the while navigating the twists and turns of a city and a police department infected with dysfunction and corruption. Bill Loehfelm is a rising star in crime fiction. And his Maureen Coughlin is the perfect protagonist: complicated, strong-willed, sympathetic (except when she's not), and as fully realized in Loehfelm's extraordinary portrayal as the New Orleans she patrols. The first two installments in this series won Loehfelm accolades as well as fans, and Doing the Devil's Work only ups the ante. It's even faster, sharper, and more thrilling than its predecessors. Taut and fiery, vibrant and gritty, and peopled with unforgettable characters, this is the sinuous, provocative story of a good cop struggling painfully into her own.
—
Barnes & Noble
★ 12/01/2014
Loehfelm's third crime novel featuring the marvelously complex New Orleans police officer Maureen Coughlin (after 2013's The Devil in Her Way) is every bit as good as its standout predecessors, and provides fresh evidence that Maureen merits a long literary life. While Maureen is on routine patrol in a seedy part of town, a sickening smell leads her to the corpse of a white male with his throat slit, in a house that turns out to belong to Caleb Heath, who's the son of a major power broker. Caleb disclaims any knowledge of the dead man, whose body bears a tattoo used by neo-Nazis, and who is subsequently identified as Edgar Cooley, a federal fugitive. The investigation, which may implicate fellow cops, takes several unexpected turns, and Maureen finds herself in morally compromising positions. The often lyrical prose will remind many of the grim, hard-edged style of James Ellroy (e.g., "her empty eyes pointed up at the stars and the wide expanse of indigo sky, her mouth slightly open in surprise." Agent: Barney Karpfinger, Karpfinger Agency. (Jan.)
 —Publishers Weekly
★ 2014-11-29
In the latest volume of Loehfelm's Maureen Coughlin series, the ambitious protagonist, now a rookie cop, tangles with some scary homegrown militia types called the Sovereign Citizens. Coughlin is determined to make her mark in the New Orleans PD, which means she's bound to ruffle some good ol' boy feathers. As was made clear in Loehfelm's earlier Coughlin novels—The Devil She Knows (2011) and The Devil in Her Way (2013)—our heroine has both a strong will and a finely tuned moral compass. So when her fellow officers fudge some evidence at a traffic stop and one of her suspects is mysteriously lost by the sheriff's department, Coughlin is going to get to the bottom of what's going on—even if it implicates one of the most powerful families in town in a gunrunning, cop-hating militia group. Loehfelm has created a wonderfully flawed heroine in Coughlin, who began as a Staten Island cocktail waitress with a nose for trouble. Her move south mirrors Loehfelm's own, and his love for New Orleans is evident in his descriptions, from the greasy spoon the cops favor for gumbo to the rollicking frat bars of the French Quarter. Dialogue doesn't get much snappier, and the complicated plot (which not only introduces the militia group, but resolves the fate of the despicable murderer Scales from Way) is deftly handled. This series just keeps getting better.
—Kirkus Reviews