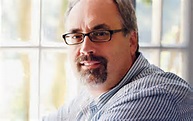 Bret Lott, was among the invited authors at the first annual meeting of the Pirate's Alley Faulkner Society 25 years ago. Bret judged the Narrative non-fiction Book  category of the 2015 William Faulkner -William Wisdom Creative Writing Competition, selecting Off the Grid by Randy Denmon of Lafayette, LA, as the winner. He will be presenting his winner at Faulkner for All during Words & Music.
He is the author of the novels A Song I Knew By Heart,  Jewel, The Ancient Highway, The Hunt Club, Reed's Beach, A Stranger's House, and The Man Who Owned Vermont, and his recent suspense novel, Dead Low Tide.

Both Jewel, which was an Oprah Selection, and The Man Who Owned Vermont were made into successful films.
His story collections include How to Get Home, A Dream of Old Leaves, and The Best Christian Short Stories.  His non-fiction books include the memoirs The Difference Between Women and Men and  Fathers, Sons, and Brothers, Ancient Highway; a recent collection, Life and Letters, On Being a Writer, On Being a Christian; and the writing guide Before We Get Started.
His stories and essays have appeared in numerous literary journals and magazines, among them. The Southern Review, The Yale Review, The Iowa Review, the Chicago Tribune, and Story, and have been widely anthologized.
For a time, while he was editor of The Southern Review, Bret lived in Baton Rouge, LA. Today, he lives with his wife, Melanie, and their two sons, Zebulun and Jacob, in Mount Pleasant, SC, a suburb of Charleston. He teaches writing at the College of Charleston and edits the literary journal Crazyhorse and also teaches at Vermont College.