Carleton Eastlake took his undergraduate degree at UCLA in political science and psychology and his graduate degree at the Harvard Law School with a concentration in law and the social sciences. While in law school he interned with NASA's manned Mars mission program. Following graduation, he became a Confidential Attorney-Adviser to a Commissioner of the Federal Trade Commission and then spent a year in private practice as an antitrust and complex case litigator befor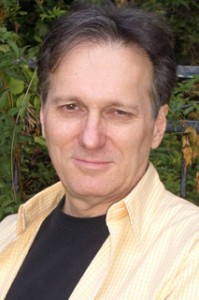 e returning to the FTC where he ultimately served for three years as Acting Regional Director of the Los Angeles Regional Office. He broke into Hollywood as a writer-producer of crime and espionage dramas. Being hired as a producer of Steven Spielberg's science fiction series seaQuest—where he drew on some of his experiences on a U.S. Navy guided missile frigate—confirmed him as a science fiction and technological fiction writer as well. To date he has staffed on 12 different television series, including runner on The Outer Limits and Gene Roddenberry's Earth: Final Conflict. He has shared in a Saturn Award for best science fiction cable series (Farscape) and an Edgar Award for best episode of a television crime series (The Equalizer). He is a member of the Writers Guild of America, the Writers Guild of Canada, the Mystery Writers of America, the Science Fiction and Fantasy Writers of America, the American Bar Association, and the California Bar Association, among others, and has served as an instructor in the UCLA Film School's Professional Screenwriting graduate certificate program and as a guest lecturer for the American Film Institute's MFA program.
He is currently in his third term on the Board of Directors of the Writers Guild of America West and is a past President of PEN Center USA.He is married to the best-selling novelist and screenwriter Loraine Despres. His stepson David Mulholland is a journalist and professional stand-up comedian.