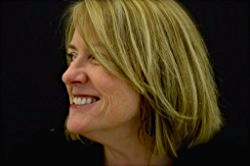 About the Author

Chris White is an award-winning playwright and screenwriter with an MFA in dramatic writing from New York University's Tisch School of the Arts. Her plays have been produced nationally and internationally, and her play Rhythms won the Helen Hayes Award for Outstanding New Play. She received an Award of Merit at the Women's Independent Film Festival for her feature-length screenplay Weasel in the Icebox and her short film Mud Lotus was an official selection at U.S. film festivals. White is a professor of English at DePauw University teaching creative writing. She lives near the town of Bainbridge, Indiana, on Big Walnut Creek. The Life List of Adrian Mandrick is her first novel. It was the 2016 runner-up for the Faulkner Society's Gold Medal for the Novel.
About the Book

In this wry and incisive debut novel, pill-popping anesthesiologist and avid birder Adrian Mandrick embarks on a quest to find one of the world's rarest species, allowing nothing to get in his way—not his wife's growing concerns, not his children pulling away, not even his own dark family history—until he's forced to confront each of his obsessions and what they've cost him.
Forty-one year-old Adrian is filled with contradictory impulses. He wants to be a good doctor, a loving husband, and a caring father. Yet, after receiving a call from his estranged mother after years of silence, he seeks solace in the very pain medication he prescribes, spiraling downward into addiction.  Adrian's only source of true comfort is his "life list": the all-encompassing record of the 863 bird species he's spotted and identified. When Henry Lassiter, a rival birder who held the region's second longest list, dies suddenly, Adrian seizes the opportunity to make his way to the very top. He embarks on a manic quest to find the extremely rare Ivory-billed Woodpecker, which eventually leaves him stranded in the swampy wilds of Florida's Panhandle, forced to face the dark realities of his present and the secrets long-buried in his past.
Combining sharp, elegant prose with mystery and environmental adventure, The Life List of Adrian Mandrick is a fast-paced, engaging story that heralds the arrival of a new literary talent to watch and enjoy.
Although this is a work of fiction, an urgent message of environmentalism is at the heart of The Life List of Adrian Mandrick . Due to human destruction of its natural habitat, the Ivory-billed Woodpecker has been officially labeled "extinct" by the American Birding Association, but reported sightings have ignited fervent controversy over the bird and inspired many real adventures by birders just like Adrian. Chris White interviewed some of the top birders in the country in the process of writing her novel and took great care to portray this passionate community accurately. Like Jonathan Franzen's Freedom and Barbara Kingsolver's Flight Behavior, this is a novel with the power to truly change the way you see the world around you.
Advance Praise for The Life List of Adrian Mandrick

An intense, poignant debut… The author, an award-winning playwright and screenwriter, deftly pulls out all the stops in this swift and disturbing, dramatic look at confronting fear and personal failures.This engaging, unusual novel successfully combines the best elements of a psychological portrait, a travel adventure, and a suspenseful mystery.
—LIBRARY JOURNAL (STARRED REVIEW)
An immensely affecting observation of human nature and foibles.
—CHICAGO REVIEW OF BOOKS
A poignant story of a man whose epic search for glory forces him to face his own human failures, all set against the backdrop of a stunning, natural world that there's still time to save.
—COURTNEY MAUM, author of Touch and I Am Having So Much Fun Here Without You
Impossible to put down: It's dramatic and fast-paced on every page, but still a poignant and intense look at a man and family reaching breaking point."
—CLAIRE FULLER, author of Swimming Lessons and Our Endless Numbered Days
Far from an everyday bird book, The Life List of Adrian Mandrick takes [birdwatching] as the starting point for a thoughtful look at how memory and the truth can be manipulated and sometimes ultimately restored.

—VERMILION FLYCATCHER MAGAZINE