Faulkner Society, State Museum Partner With One Book, One New Orleans for Literacy Launch at the Cabildo
Dear Friends:
The Faulkner Society each year creates a literacy initiative focusing on a book and author and  targeting teenagers at risk for illiteracy as well as the general reading public. This year, the Society is partnering with One Book, One New Orleans (OBONO), an arm of the Young Leadership Council, to focus on the new book by Brian Boyles, an executive with the Louisiana Endowment for the Humanities. The book, New Orleans Boom and Black Out: 100 days in America's Coolest Hot Spot, which has garnered excellent reviews, is a great take on our City in Post-Katrina revival mode.
It is an excellent choice for summer reading and reflection on where the City has been and where it is going as we approach the 10th Anniversary of Hurricane Katrina.
One Hundred Days of One Book, One New Orleans Begins July 22, 2015
         Preseason Opener Launches a Season of Literacy and Community
In partnership with the Louisiana State Museum, the Faulkner Society and One Book One New Orleans are proud to present the Preseason Opener, which will take place July 22 at 5:30 p.m. at the Cabildo (701 Chartres Street). The event will launch One Hundred Days of One Book One New Orleans, a series of events and volunteer opportunities designed to foster a greater sense of community through a shared reading experience and to increase access to literacy resources throughout the Greater New Orleans community.
The event is free and open to the public. Copies of the focus book will be sold at the event. To reserve your copy in advance, please call Faulkner House Books with
credit card information: (504) 524-2940 or e-mail us.

The phrase "One Hundred Days of One Book One New Orleans" is inspired by the title of this year's book selection, New Orleans Boom and Blackout: One Hundred Days in America's Coolest Hot Spot. The author,  Brian Boyles will give a reading at the event, followed by a discussion led by Dr. Nancy Dixon, author of N.O. Lit: 200 Years of New Orleans Literature.
The discussion should be particularly rich given the topic on many of our minds this year—the 10th anniversary of Hurricane Katrina.
"While many books are looking back at the past ten years, New Orleans Boom and Blackout looks forward," says OBONO project leader Dr. Megan Holt. "It asks us to think about how we as New Orleanians see ourselves and how we want the world to see our city. It raises questions about whose voices are included when telling the story of New Orleans and encourages us to think critically about whose voices may be left out. These issues are crucial to understanding New Orleans a decade after the storm."
Following the discussion, guests will enjoy a meet and greet with Boyles, who will also be signing books. Guests will be treated to a delicious array of appetizers prepared by Chef Gilbert Torres of Fleurdelicioso Original New Orleans BBQ, along with liquid
refreshments.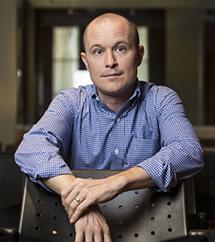 Brian Boyles is Vice President of Content at the Louisiana Endowment for the Humanities, where he serves as publisher of Louisiana Cultural Vistas magazine and directs public programs at the Louisiana Humanities Center. He is a native of Pittsburgh and a graduate of Tulane University.  A DJ and founding member of East Village Radio, he returned to New Orleans in 2006 and began developing programming and hosting events at the newly-opened Louisiana Humanities Center, including "As Told By Themselves: The New Orleans Brass Bands," "The Professors Series," "The New Orleans Media" panel discussions, and the LHC's acclaimed series on the history of the New Orleans mayoralty. Boyles is a member the Tennessee Williams/New Orleans Literary Festival board of directors and the Louisiana Association of Museums board of directors. His work has been featured in Oxford American, Vice.com, The Classical, Offbeat, The Lens, The Brooklyn Rail, NOLAFugees, SLAM, Gathering of the Tribes Magazine, and Louisiana Cultural Vistas. His first book, New Orleans Boom and Blackout: 100 Days in America's Coolest Hotspot, was published by the History Press in January. He lives in New Orleans' 13th Ward with his wife and son.
The Faulkner Society is pleased to be working with this energetic and talented young group of New Orleans professionals in the cause of universal literacy.
We hope you will join us in making this 2015 literacy initiative a big success.
Best regards,
Rosemary James, Co-Founder, Faulkner Society