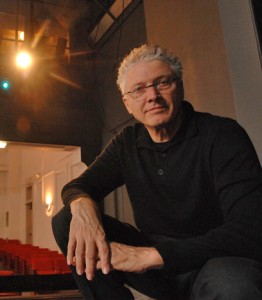 John Biguenet, playright, novelist, short story master, poet, literary translator, and Distinguished Professor of Literature at Loyola University
About the Author
John Biguenet authored most recently his new play, Ever After, a drama about the persistence of grief and the nature of resilience. It is being premiered the first week in November at The Orlando Shakespeare Theater's new play festival, PlayFest, dedicated this year to the victims and survivors of the June massacre at the Pulse nightclub. The theater selected John's play to close the festival. Earlier works include The Rising Water Trilogy: Plays, just released by LSU Press and his non-fiction collection Silence. The 2009 winner of the Faulkner Society's Alihot (A Legend in His Own Time ) Award, is a fiction writer, poet, translator, playwright, and teacher.  Other recent plays include Broomstick and Night Train, both  in production by various theatre groups here and abroad. Biguenet, who has been a regular member of the faculty for
Words & Music for many years, has judged categories of The William Faulkner – William Wisdom Creative Writing Competition on several occassions, including the Short Story category in 2015 and other yeas, as well as Short  Story by A High School Student. His short fiction has appeared in such publications as The Atlantic, New Republic, Playboy, Tin House, Esquire, Granta, Story, and Zoetrope. and won an O'Henry Award as well as a Harper's Magazine Writing Award among other distinctions, and his stories and essays have been reprinted or cited in The Best American Mystery Stories, Prize Stories: The O. Henry Awards, The Best American Short Stories, and Best Music Writing.  Having served twice as president of the American Literary Translators Association and as writer-in-residence at various universities, he is currently the Robert Hunter Distinguished University Professor at Loyola University of the South in New Orleans and was named Chairman of the Department of English
in January, 2014. Named its first guest columnist by The New York Times, Biguenet has chronicled in both columns and videos his return to New Orleans after its catastrophic flooding of Katrina, which claimed is own home and the home of his children, and he has participated in the efforts to rebuild the city. http://biguenet.blogs.nytimes.com/
Other Work
He is author of Oyster, a novel, and The Torturer's Apprentice: Stories, published by Ecco/HarperCollins in the U.S. and by Orion Books in the U.K.  With comparisons to Flaubert, Chekhov, and Faulkner, O. Henry Award-winner John Biguenet earned wide acclaim for his debut short-story collection, The Torturer's Apprentice. In his astonishing first novel, Oyster, he demonstrates the same mastery of craft and rigor of vision that led critics across the country to join Robert Olen Butler in praising this "important writer."
Set on the Louisiana coast in 1957, Oyster recounts the engrossing tale of a deadly rivalry between two families. To avoid ruin after years of declining oyster crops, Felix and Mathilde Petitjean offer their young daughter, Therese, in marriage to 52-year-old Horse Bruneau, who holds the papers on their boat and house. Bruneau has spent his life as Felix's rival for both the Petitjeans' century-old oyster beds and, as we learn, Mathilde. But as Therese explains to Horse one night as they float in a pirogue alone in the marsh, "I don't get bought for the price of no damn boat." The spiraling violence of Oyster and the seething passions behind it drive an unpredictable tale of murder and revenge in which two women and the men who desire them play out a drama as elemental and inexorable as a Greek tragedy.
His brilliant debut collection The Torturer's Apprentice is as notable for the rigor of its intellect as for the sweep of its imagination. Whether recounting the predicament of an atheistic stigmatic in The Vulgar Soul or a medieval torturer who must employ his terrible skills upon his own apprentice in the title tale, these stories decline to settle for ready sentiments or easy assurances. Rather than add to the massive canon of the victimized, for example, My Slave takes the perspective of the victimizer. In The Open Curtain, a man achieves intimacy with his family only when he recognizes — watching them dine as he sits in his car at the curb — that he lives in a household of strangers. Menaced by a gang of skinheads in a Jewish cemetery, an American tourist in Germany placates the Neo-Nazis with a formula he continues to repeat even after he is safely back home in I Am Not a Jew. And as for love, it makes demands in such stories as Do Me that shake our very notions of what it means to love. Previously translated into a number of foreign languages, 2014 will see it published in Turkish translaton.
If these stories engage the world in sometimes shocking ways, they are virtuoso engagements, eloquent in their prose, surprising in their plotting, sly in their humor. Biguenet shifts among voices and narrative strategies and imposes neither a single style nor a repeated structure as he depicts the ecological catastrophe of A Plague of Toads, the problem posed by a ghost in the nursery in Fatherhood, and the ghastly discovery a grieving widower defends in Rose. Such mastery of craft may come as a surprise in a first-time author, but even more impressive is the object of his art. For whether it seeks to prick or to tickle, each story in The Torturer's Apprentice addresses its subject with an authority unusual in contemporary literature as it entices the reader beyond the boundaries of the expected and the accepted.
His fiction is published in Hebrew translation by Matar Publishing Company in Tel Aviv, in French translation by Éditions Albin Michel in Paris, and in Dutch translation by Uitgeverij Ailantus in Amsterdam.
Among his other books are Foreign Fictions (Random House), two volumes on literary translation (The University of Chicago Press), and Strange Harbors, an anthology of international literature in translation (Center for the Art of Translation).  Biguenet's radio play Wundmale, which premiered on Westdeutscher Rundfunk, Germany's largest radio network, was rebroadcast by Österreichischer Rundfunk, the Austrian national radio and television network.
He was awarded a 2007 Marquette Fellowship for the writing of Night Train, which he then developed on a Studio Attachment at the National Theatre in London.  Biguenet was named 2008 Theatre Person of the Year at the Big Easy Theatre Awards.
Two of his stories have been featured in Selected Shorts at Symphony Space on Broadway.  The Vulgar Soul won the 2004 Southern New Plays Festival and was a featured production at Southern Repertory Theatre in New Orleans; he and the play were profiled in American Theatre magazine. Rising Water, the first play in his three-play Katrina cycle, was the winner of the 2006 National New Play Network Commission Award, a 2006 National Showcase of New Plays selection, and a 2007 recipient of an Access to Artistic Excellence development and production grant from the National Endowment for the Arts as well as the 2008 Big Easy Theatre Award for Best Original Play. It has had seven past productions around the country. More are in the works.  Shotgun, the second play in his Katrina cycle, premiered in 2009 at Southern Rep Theatre; it won a 2009 National New Play Network Continued Life of New Plays Fund Award and was a 2009 recipient of an Access to Artistic Excellence development and production grant from the National Endowment for the Arts. Productions in 2010 were staged at the Orlando Shakespeare Theater and the Florida Studio Theatre. A 2014 production of Shotgun opened in late January, 2014 in North Carolina. The third and final new play in the cycle, Mold, like the other two has been widely produced both in New Orleans and elsewhere. In 2014. Mold was nominated for the American Theatre Critics Association's Steinberg Award for the best new American play of 2013, as was his  new play in verse, Broomstick, a one-woman portrayal of a witch, which had a successful run at a New Jersey theater, premiered in New Orleans in Fall, 2014, and is production elsewhere currently.
His recent book, Silence, a non-fiction study of the nature of silence, has just been released in Italian translation with Chinese and Korean translations to follow. His essay on the differing obligations of a citizen and a writer in an age of moral exhaustion, Questions, Not Answers, was published in The Dramatist in September and widely reprinted: https://view.publitas.com/dramatists-guild/the-september-issue-1/page/118.
It was originally presented as the keynote address at Montana Repertory Theatre just before the first presentation of his new play, The Trouble with White People. His most recent short story was published over the summer in One Story in New York; it's a retelling of the Biblical tale of Abraham's sacrifice of Isaac but set in Brooklyn in the 1940's.