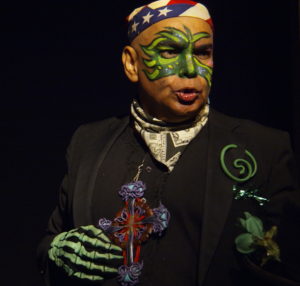 José Torres-Tama
Ecuadorian-born José Torres-Tama is a published poet and playwright, a theater
educator, a visual artist, and a performance activist. He explores the Latin American
immigrant experience and post-9/11 nationalism that has fueled the anti-
immigrant sentiment gripping the United States of America. His work questions American legitimacy in light of centuries of oppression.
He is a MAP Fund Award recipient for his Taco Truck Theater / Teatro Sin Fronteras
ensemble theater on wheels. This Taco Truck Kills Fascists is the film documentary by
Chilean-born filmmaker Rodrigo Dorfman, and it won Best Louisiana Feature at the
2018 New Orleans Film Festival. Aliens, Immigrants & Other Evildoers is his "sci-fi
Latino noir" solo that exposes the rise in hate crimes against immigrants, and
Northwestern University Press has published the full one-man play script in a book
titled Encuentro: New Latinx Performances for the American Theater, an anthology of
six contemporary playwrights.
Since 1995, Torres-Tama has toured nationally and internationally. Vanderbilt, Duke,
Cornell, OSU, LSU, and others have presented his performance solos, and international
presenters include Roehampton University in London and Bluecoat Arts Centre in
Liverpool. Diálogos Books New Orleans published Immigrant Dreams & Alien
Nightmares, a debut collection of 25 years of bilingual verse.
From 2006 to 2011, Torres-Tama contributed commentaries to NPR's Latino USA that
explored the many challenges of Latin American immigrant workers. who gave or their
sweat, labor, and love to the rebirth of post-Katrina New Orleans. The Joan Mitchell
Foundation in New York awarded him and the Ogden Museum of Southern Art
publication funds for his art book titled New Orleans Free People of Color & Their
Legacy, documenting his pastel portraits of 18th and 19th century Creoles of color and
museum exhibition of the same name. You can find more at www.torrestama.com