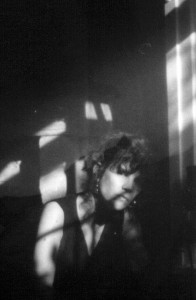 I believe in Art as the means of transcendence and connection. My images are simply what I've made from what I have been given. I hope they have done justice to their sources and that they will, for a moment, stay "the shadows of contentment too short lived." * 
—Joséphine Sacabo
*Sor Juana Inés de la Cruz,
About the Artist and Her Work
Joséphine Sacabo, one of America's leading art photographers, lives and works primarily in New Orleans, where she has been strongly influenced by the unique ambience of the city, and in San Miguel Allende, Mexico. She is a native of Laredo, TX, and was educated at Bard College in New York. Before moving to New Orleans, she lived and worked extensively in France and England.
Her earlier work was in the photo-journalistic tradition, influenced by Robert Frank, Josef Koudelka, and Henri Cartier-Bresson. She now works in a very subjective, introspective style. She uses poetry as the genesis of her work and lists poets as her most important influences, among them Rilke, Baudelaire, Pedro Salinas, Vincente Huiobro, and Juan Rulfo, Mallarmé, and Sor Juana Inés de la Cruz.  Ms. Sacabo, has published five books of her work including Une Femme Habitée in Paris in 1991 by Editions Marval; award winning Pedro Paramo in 2002 by the University of Texas Press; Cante Jondo in 2002, Duino Elegie in 2005 both by 21st Publishing, and, more recently, Nocturnes with her husband, poet and fabulist Dalt Wonk (Luna Press).
She has had solo shows in Paris, London, Madrid, Toulouse, Buenos Aires, Mexico City, New York, Chicago, Los Angeles and other major U.S. cities. Her work has also been widely published in magazines in the United States and Europe and is in numerous permanent collections, both public and private, including the Whitney Museum of American Art, The Museum of Modern Art, and the Metropolitan Museum of Art, New York; The Library of Congress and The Smithsonian Institution Libraries, Washington D.C.; Art Institute of Chicago, Chicago, IL; Bibliothéque Nationale, Maison Européenne de la Photographie, and Paris Audio-Visual, Paris, France; Boston Museum of Fine Arts, Boston, MA; International Museum of Photography, George Eastman House, Rochester, NY; Houston Museum of Fine Arts, Houston, TX; Wittliff Collection of Southwestern and Mexican Art, San Marcos, TX; Museum of Photographic Arts, San Diego, CA; New Orleans Museum of Art, Historic New Orleans Collection, and the Ogden Museum of Southern Art in New Orleans, LA. Her work also is represented in the corporate collections, including those of Lykes Brothers Steamship Company and the ARCO Corporation.
Much in demand as a teacher of photography, Joséphine has taught privately and at highly acclaimed classes such as those of the Center for Photography at Woodstock, the Rencontres Internationales de la Photographie in Arles , France, and the Santa Fe Workshops. While in college at Bard, she met her husband Richard Cohen, whose pen name is Dalt Wonk, where they both studied theatre and acting, as well as literature. Sacabo and Wonk moved to New Orleans, after living in Europe for a number years, performing in a wide variety of theatrical productions.
During this period, while acting Sacabo also embarked upon her career as a photographer. Wonk, a poet and artist, as well as an actor and playwright, and Sacabo produced and acted in numerous stage productions during their early years in New Orleans. They are founding members of the Pirate's Alley Faulkner Society and have participated as faculty members for the Society's Words & Music festival on many occasions. Ms. Sacabo, whose images have been an elegant hallmark for various Society invitations, broadsides, and editions of The Double Dealer since 1990, is a recipient of the Society's ALIHOT medal (A Legend In His/Her Own Time). Joséphine and Dalt divide their time between their residences in the French Quarter of New Orleans and San Miguel Allende. They have one daughter, Iris, and two grandchildren, Oliver and Violet Octavia.