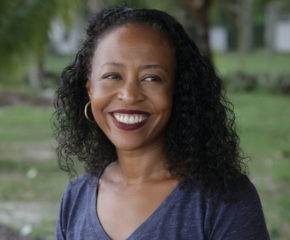 About the Author
Ladee Hubbard is an award-winning New Orleans based writer of literary fiction. She won both the 2016 Rona Jaffe Foundation Writer's Award, and the William Faulkner-William Wisdom award for the short-story category. Previously publishing mostly short fiction, The Talented Ribkins is her debut novel. It was awarded the 2018 Ernest J. Gaines Prize for
Literary Achievment.

While she was born in Massachusetts, she spent most of her early years in Florida with her grandparents, the U. S. Virgin Islands, and upstate New York. She notes a strong connection with her grandparents, spending most of her summers with them, and the main character from her new book is even based in part on her grandfather.
Ladee has enjoyed a flooding of praise from the writing community about her book, including renowned author Toni Morrison. She also recently wrapped on a television interview on Late Night with Seth Meyers! Despite living in the South, she is hesitant to call herself a 'Southern writer,' as she admits it doesn't really impact her work.
While the Rona Jaffe Foundation Writer's award allowed her a break, Hubbard has spent the last decade with her husband and children living and teaching in the Africana and African Diaspora Studies department at Tulane University in The Big Easy. She has lived a lot of places in the world, but feels most at home in New Orleans. She has lived in the city for over a decade, struggled with Katrina, and raised her three children with fellow Tulane professor, Christopher Dunn.

About the Book
            The Talented Ribkins is a novel about exploring narratives, and the struggles of the physical navigation of white spaces for people of color, and how history often forgets those who did the hard work for well-known narratives like the civil rights movement. The Ribkins clan are a talented family of misfits, struggling to adapt and survive in a world where they go unrecognized, or are taken for granted. Their talents are more complicated than most, and aren't always helpful. Johnny Ribkins, the main character, is a mapmaker. In his youth he used his talent to try and help others in the civil rights movement by forming the Justice Committee. A few select family members and friends started the 'freedom of movement movement,' where they aim to make it easier for the good guys to do their jobs. Putting in the groundwork and hustling for civil rights, they get no gratitude or press, but they use their talents (map-making, climbing walls, or disarming allure) to fight the good fight in the dark. Later in life and deeply in debt, Johnny goes on a journey with his niece, Eloise, to meet her family and learn a little more about the talented Ribkins.
Praise for the Book
KIRKUS REVIEW
Hubbard shrewdly molds the pop-culture mythology of the comic-book superhero team into a magical-realist metaphor for African-American struggles since the real-life heroic battle against segregation in the middle of the 20th century.
You've heard of the Justice League? Meet the Justice Committee, an extended family of black crusaders who became legendary for using their extraordinary powers to protect leaders, activists, and their brothers and sisters during the 1960s civil rights movement. When this crafty and wistful debut novel opens in present-day Florida, the committee's surviving members are scattered about, and one in particular, 72-year-old Johnny Ribkins, seems lost and at loose ends. Which is ironic since Johnny's special gift is being able to draw precise maps of places he's never been. (It came in handy when black drivers tried to make their ways safely through the racially segregated South.) But after the committee members drifted apart, Johnny and his brother, Franklin, whose natural wall-climbing skills rivaled those of Spider-Man, merged their talents for high-scale larceny. After Franklin's untimely death, Johnny jump-starts his cartography gifts to track down buried loot from all their varied heists so he can pay off his debt to a shady real estate mogul. Accompanying Johnny in an antique Thunderbird she characterizes as "junky" is his moody teenage niece, Eloise, who's been showing off some of her own inherited uncanniness by being able to catch any object thrown at her. With a pair of thugs shadowing them, Johnny and Eloise stop at various points in the Sunshine State, where they meet, among other relatives, Cousin Bertrand, nicknamed "Captain Dynamite" because he could "spit firecrackers"; another speedy, magnetic cousin known (of course) as "Flash"; and yet another nicknamed "The Hammer" because while her left hand looks normal, her right hand…you can probably guess the rest. With each rueful confrontation with people and places of his past, Johnny comes to grips with lost resolutions, squandered opportunities, and the complex history of a family that began with a patriarch whose superb sense of smell made him "The Rib King." Hubbard weaves this narrative with prodigious skill and compelling warmth. You anticipate a movie while wondering if any movie could do this fascinating family…well, justice.
To describe this novel, as someone inevitably will, as Song of Solomon re-imagined as a Marvel Comics franchise is to shortchange its cleverness and audacity.
—Kirkus Review
Seventy-two-year-old Johnny Ribkins has a unique gift: He can create maps to places he's never been and remember his way to other locations by simply referring to the "map" in his mind. If the premise sounds a bit unusual, wait until you meet the rest of the family. First-time novelist Ladee Hubbard has created a collection of misfits like no other in The Talented Ribkins.
Each member of this black family is imbued with their own special ability, whether it's being able to climb walls, catch any object hurled at them or spit fire. Not exactly Avengers or X-Men material, mind you, but fascinating nevertheless. For a while, Johnny and his extended family attempted to make good with their abilities by forming the Justice Committee, in which they fought for civil rights in the late 1960s. But their lofty ambitions and less-than-impressive powers proved to be an imperfect and rather ineffective combination.
When the novel opens, the Justice Committee is a long-forgotten dream, and Johnny is a simple antiques dealer, albeit one with an outstanding debt to an old mob boss. Facing a looming deadline to pay up or else, Johnny embarks on a haphazard trip across Florida to locate and retrieve the loot he and his brother Franklin stole and hid in the wake of their failed super group. The journey takes Johnny back to his old stomping grounds and to fresh encounters with forgotten relatives, as well as relatives he's never met, such as his teenage niece Eloise, who joins him in his misadventures. Eloise, in turn, discovers her place in this bizarre world with each new hole, each new memory that Johnny digs up.
Hubbard's tale ultimately transcends race, class and time itself as the pair discovers the heart of who they are.
—G Robert Frazier, Book Page
At seventy-two, Johnny Ribkins shouldn't have such problems: He's got one week to come up with the money he stole from his mobster boss or it's curtains.
What may or may not be useful to Johnny as he flees is that he comes from an African-American family that has been gifted with super powers that are a bit, well, odd. Okay, very odd. For example, Johnny's father could see colors no one else could see. His brother could scale perfectly flat walls. His cousin belches fire. And Johnny himself can make precise maps of any space you name, whether he's been there or not.
In the old days, the Ribkins family tried to apply their gifts to the civil rights effort, calling themselves The Justice Committee. But when their, eh, superpowers proved insufficient, the group fell apart. Out of frustration Johnny and his brother used their talents to stage a series of burglaries, each more daring than the last.
Fast forward a couple decades and Johnny's on a race against the clock to dig up loot he's stashed all over Florida. His brother is gone, but he has an unexpected sidekick: his brother's daughter, Eloise, who has a special superpower of her own.
Inspired by W. E. B. Du Bois's famous essay The Talented Tenth and fueled by Ladee Hubbard's marvelously original imagination, |The Talented Ribkins is a debut novel about race, class, politics, and the unique gifts that, while they may cause some problems from  time to time, bind a family together. A big-hearted novel about a family with special gifts who sometimes stumble in their efforts to succeed in life, The Talented Ribkins draws on such novels as Toni Morrison's Sula The Intuitionist to weave themes of race, class, and politics into a wonderfully accomplished and engaging novel.
—Good Reads