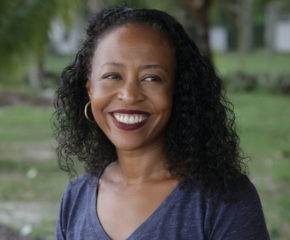 About the Author
Ladee Hubbard is an award-winning New Orleans based writer of literary fiction. She won both the 2016 Rona Jaffe Foundation Writer's Award, and the William Faulkner-William Wisdom award for the short-story category. Previously publishing mostly short fiction, The Talented Ribkins is her debut novel.
While she was born in Massachusetts, she spent most of her early years in Florida with her grandparents, the U. S. Virgin Islands, and upstate New York. She notes a strong connection with her grandparents, spending most of her summers with them, and the main character from her new book is even based in part on her grandfather.
Ladee has enjoyed a flooding of praise from the writing community about her book, including renowned author Toni Morrison. She also recently wrapped on a television interview on Late Night with Seth Meyers! Despite living in the South, she is hesitant to call herself a 'Southern writer,' as she admits it doesn't really impact her work.
While the Rona Jaffe Foundation Writer's award allowed her a break, Hubbard has spent the last decade with her husband and children living and teaching in the Africana and African Diaspora Studies department at Tulane University in The Big Easy. She has lived a lot of places in the world, but feels most at home in New Orleans. She has lived in the city for over a decade, struggled with Katrina, and raised her three children with fellow Tulane professor, Christopher Dunn.

About the Book
            The Talented Ribkins is a novel about exploring narratives, and the struggles of the physical navigation of white spaces for people of color, and how history often forgets those who did the hard work for well-known narratives like the civil rights movement. The Ribkins clan are a talented family of misfits, struggling to adapt and survive in a world where they go unrecognized, or are taken for granted. Their talents are more complicated than most, and aren't always helpful. Johnny Ribkins, the main character, is a mapmaker. In his youth he used his talent to try and help others in the civil rights movement by forming the Justice Committee. A few select family members and friends started the 'freedom of movement movement,' where they aim to make it easier for the good guys to do their jobs. Putting in the groundwork and hustling for civil rights, they get no gratitude or press, but they use their talents (map-making, climbing walls, or disarming allure) to fight the good fight in the dark. Later in life and deeply in debt, Johnny goes on a journey with his niece, Eloise, to meet her family and learn a little more about the talented Ribkins.