1954 – 2017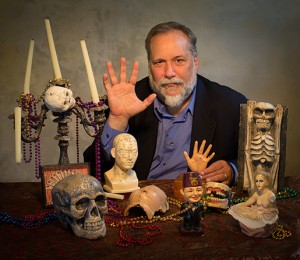 Michael Murphy, author of the New Orleans travel book, Fear Dat.
About The Author & His Work
Michael Murphy had a successful career in book publishing, first as Vice President of Sales & Marketing with Random House, then as Publisher at William Morrow. An acquisition of William Morrow by NewsCorp and merger into HarperCollins allowed Michael to fulfill his dream of moving to New Orleans.
He first visited New Orleans in 1983 to work with author Anne Rice, Queen of occult novels. Like so many, he was immediately seduced by the city and felt it was Home. Moving here in 2009, he said: "I am never leaving." Michael gave private tours, worked concierge at a boutique hotel, and wrote books about New Orleans. The story-filled Eat Dat, about the food culture, was published by W.W. Norton in 2014. The book achieved #1 status at amazon.com and was rated by Huffington Post as the #1 "Essential" book to read before coming to New Orleans. Fear Dat, about New Orleans voodoo, vampires, graveyards, ghosts, and assorted butchery & mayhem, is an October, 2015 release. Anne Rice contributed to the Fore-Warned section of the book. Hear Dat, New Orleans music, completed the traveler's trilogy in Spring 2016. Allen Toussaint wrote the introduction. Michael also wrote 111 Things Not To Miss in New Orleans for German Publisher, Emos Verlag. That book, about hidden non-touristy gems, was released in November, 2015. Michael is survived by his wife, Marnie Carmichael, founder of her own baking/gift company, daughter Ella Murphy, his son Austin Murphy-Park, daughter-in-law Jacy, granddaughter Cadencea, a Bernese Mountain Dog, Tallulah, and two snowshoe cats, Remy (short for Remoulade) and Roux. The family will hold a memorial Saturday, November 18th, and details will be available at michaelmurphymemorialblog.wordpress.com.