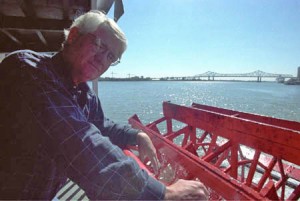 Roy, Rollin' On The River
Roy Blount Jr., is the newest writer after a long flirtation to be seduced by New Orleans into making her his permanent home. Roy and his wife Joan recently purchased the French Quarter home of another writer, Curtis Wilkie, and will be neighbors of the Faulkner Society. Roy is a winner of the Faulkner Society's annual ALIHOT Award (A Legend in His/Her Own Time) for Literature, is a frequent member of the Words & Music faculty, and has judged categories of the William Faulkner – William Wisdom Creative Writing Competition, including Essay, in 2015. He is the author of 23 books, about a wide range of things, from his introduction to Modern Library's The Mark Twain Library of Humor and his introduction A Murder, A Mystery, and a Marriage, a previously unpublished Twain story released recently, to the first woman president of the United States to what barnyard animals are thinking.  The most recent, Alphabetter Juice (Farrar, Straus), is out in paperback and available as an audiobook. Long Time Leaving: Dispatches From Up South (Knopf), won the 2007 nonfiction award from the New England Independent Booksellers Association; and AudioFile chose the audio version (HighBridge) as one of the year's top five books read by their authors. Feet on the Street: Rambles Around New Orleans, "delivers the goods," according to the New York Times: "a wild, unpredictable ramble through a wild, unpredictable town." Hail, Hail, Euphoria! — The Marx Brothers in Duck Soup. (October, 2010, HarperStudio) and Alphabetter Juice are among recent additions to the list.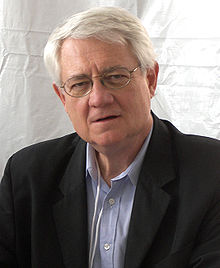 He is the president of the Authors Guild, a member of PEN and the Fellowship of Southern Authors, a New York Public Library Literary Lion, a Boston Public Library Literary Light, a usage consultant to the American Heritage Dictionary, and an original member of the Rock Bottom Remainders. He comes from Decatur, GA and lives in western Massachusetts. In October he received the Thomas Wolfe Award from the University of North Carolina (see citation at http://englishcomplit.unc.edu/wolfe/2009).
His first book, about hanging out with the Pittsburgh Steelers, About Three Bricks Shy…And the Load Filled Up, now available from the University of Pittsburgh Press, was named one of the ten best sports books ever by Jonathan Yardley of The Washington Post —and more recently called, by Adam Gopnik in The New Yorker, "the best of all books about pro football." Norman Mailer said of his second book, Crackers, "Page for page, Roy Blount is as funny as anyone I've read in a long time," and Time placed Blount "in the tradition of the great curmudgeons like H.L. Mencken and W.C. Fields." Garrison Keillor said in The Paris Review, "Blount is the best. He can be literate, uncouth and soulful all in one sentence." Playboy said he was "known to the critics as our next Mark Twain." Whether, on the one hand, it is his place to quote these plaudits and whether, on the other hand, he feels that they are adequate, are questions not for him to answer at this time.
Theatre, Films, TV, Radio
A panelist on NPR's Wait, Wait…Don't Tell Me, Blount has performed frequently in other venues, bringing unique brand of humor to all of his appearances. His one-man show at the American Place Theatre was described by The New Yorker as "the most humorous and engaging 50 minutes in town"–which, when you stop to think how many 50 minutes there are in New York at any given time, is something. In l988 he expanded that show into Roy Blount's Happy Hour and a Half. He has performed for Folk Tree Concerts and at Chet Atkins' Celebrity Golf Tournament, and introduced Chet in Morning Show, Tonight Show, David Letterman Show, Good Morning America, Today Show, Larry King, Politically Incorrect, and in a series of TV spots for the NBA starring Bill Murray, which he helped Murray create. He has written the screenplay of Larger Than Life starring Bill Murray, the lyrics of a song Andie MacDowell sings in Michael, and an HBO fairy tale, The Frog Princess. Of his two one-act plays produced at the Actors Theatre of Louisville, one became part of an Off-Broadway review. In films he has portrayed a reporter, an outraged grocery shopper and a partygoer dressed as Truman Capote; on TV, a dim-witted talk-show caller and a Cuban soldier; on radio, the Prodigal Son, Orpheus, a ship's captain named Blauggh, a foolish virgin, Millard Fillmore and Thoreau. He has read or lectured at colleges from Harvard to Clemson to Washington State; at the 92nd Street Y, Symphony Space, Manhattan Theatre Club, Theatre for a New Audience, San Francisco's City Arts and Lecture Series, the San Diego Forum and the Mark Twain House. Journeyed down the Mississippi River for the documentary The Main Stream, aired by PBS in December '02.
A contributing writer of The Oxford American, he writes a regular column for Garden and Gun, and has done so in the past for Esquire, The New York Times, Atlanta Magazine, Inside Sports, The Soho News, Men's Journal, Conde Nast Traveller, The San Francisco Examiner, Spy and The Atlanta Journal. His essays, articles, stories, verses and even drawings have appeared in 166 different periodicals including The New Yorker, Gourmet, Playboy, Vanity Fair, GQ, Life, TV Guide, Vogue, Rolling Stone, National Geographic, Antaeus, Smithsonian and Organic Gardening; and in 174 books, including The Best of Modern Humor, The Oxford Book of American Light Verse, The Norton Book of Light Verse, The Ultimate Baseball Book, Classic Southern Humor, Sudden Fiction, The Elvis Reader, Russell Baker's Book of American Humor, Baseball: A Literary Anthology, The Sophisticated Cat, The F-Word, and Best American Essays l997. This work has taken him to China, Uganda, Iceland and all but two states. He has written introductions to books by Erskine Caldwell, A.J.Liebling, Ernie Bushmiller Jr.and Phil Rizzuto, and to four different books by Mark Twain–in particular extensive foreword and afterword accompanying first book-form publication of Twain's story A Murder, a Mystery and a Marriage (2001).
For Sports Illustrated, where he was a staff writer and editor l968-75, he has rafted the Amazon (attacked by piranha), played baseball with the 1969 Chicago Cubs (hit a ball 350 feet), become all but athletically a virtual member of the dynasty-years Pittsburgh Steelers, and hung out with Wilt Chamberlain, Yogi Berra, Reggie Jackson and the world's oldest then-living lifeguard. (Though not all at once.)
He covered the l992 Democratic and Republican conventions and Presidential election night by commenting, live and instantaneously, from a Barcalounger, on Comedy Central. Via various media he has reported on the Civil Rights Movement, the Ku Klux Klan, Saturday Night Live in its prime, Elvis's funeral, an Olympics and several World Series and Super Bowls, and interviewed Martin Luther King, Willie Nelson, Ray Charles, Satchell Paige, Joe Dimaggio, Willie Mays, Loretta Lynn, Eudora Welty, Billy Carter, Gilda Radner, Casey Stengel, Jonathan Demme, Rep. Dick Armey, Cool Papa Bell and Sally Rand. He has publicly expressed his misgivings about every president since John F. Kennedy, with the exception, for some reason, of Gerald Ford.
He has jumped out of a plane, graduated (conditionally) from race-car driving school, scuba-dived with sharks, sung on stage (as a member of the authors' rock band Rock Bottom Remainders) with Bruce Springsteen and Stephen King, hit a game-winning Texas Leaguer (and had limes thrown at him) in Venezuela, caught catfish with his bare hands in Illinois; and ridden a camel in Kenya, a dolphin in the Florida Keys, an elephant in L.A.
Born l94l to Southern parents in Indianapolis, he grew up in Decatur, GA. He received a Vanderbilt B.A. in 1963, where he was Phi Beta Kappa, magna cum laude; his Harvard M.A. in 1964. U.S. Army l964-66. Reporter and columnist for Atlanta Journal and part-time English instructor at Georgia State College, l966-68. Free-lance since l975.
He is husband of artist Joan Griswold, father of social worker daughter Ennis and director-writer-actor-songwriter son Kirven (with whom he wrote and appeared in a five-minute film on extreme sports for ESPN), grandfather of of Jesse, Noah and Elsie. No pets at all presently but previously his pets have included dogs, cats, a horse, a rooster, a snake, a turtle, a hamster, and a monitor lizard,