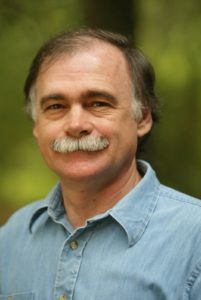 TIM GAUTREAUX is the author of three novels and three short story collections. His work has appeared in The New Yorker, The Best American Short Stories, The Atlantic, Harper's, and GQ. After teaching for thirty years at Southeastern Louisiana University, he now lives, with his wife, in Chattanooga, Tennessee, where he writes, plays with grandchildren, rebuilds pianos, and works as a steam locomotive fireman for the Tennessee Valley Railroad Museum. His latest release, Signals: New and Collected Stories, is a short story collection, written by Tim Gautreaux and published in 2017. It contains 12 new stories, and 9 classics from previous collections, which include Waiting for the Evening News: Stories of the Deep South, Welding with Children, and Same Place, Same Things. This new and vital version of Gautreaux short fiction has elements some readers will recognize, like his portrayal of life with genuine grit, or the honesty with which he treats his characters. We see everyday people struggling, sometimes winning and often not. Familiar themes of fractured time, broken old men, and desolate landscapes appear. But Gautreaux's new collection feels anything but tired, with freshly faded stories in the same unpretentiously beautiful styling as before. With this easy-to-consume new collection, Gautreux continues his legacy of plainspoken beauty, talking from the heart and writing with his head.
Born and raised in Morgan City, Louisiana, Gautreaux has been a writer since youth, eventually going on to receive a doctorate degree in English literature and creative writing at the University of South Carolina. His novels include The Next Step in the Dance, The Clearing, and The Missing. Gautreaux's short story collections are of the titles Same Place, Same Things, Welding with Children, and his latest release, Signals. He has also written a novella, The Furnace Man's Lament.
Gautreaux's work often sets its central focus on the working-class people of Louisiana and Mississippi, though he occasionally travels to colder climates. Most of his characters are grasping for a life that's just a little better, searching for hope in the midst of heat, humidity, and circumstances that always seem to get the better of them. His stories deal with affairs of the heart, matters of faith, and the pros and cons of tight-knit communities. They reveal tough, realistic, and often sad messages about the hardships of life, but never without humor and a strong dose of compassion. His characters are always memorable: confused old people, deluded gamblers, widowed women, a priest who drinks too much, an exterminator, a careless conductor, men familiar with the workings of the mechanical world, intent of fixing stereos or cracking safes. The circumstances they find themselves are real, raw, and plausible. While some are more extreme than others, none fail to teach, awe, and inspire us to consider the emotional lives of others. Gautreaux has a talent for writing both the mundane and the extraordinary, with a specialty in highlighting life's fragility. Blending dark themes with humor in order to illuminate temptations that we all face, Gautreaux considers the fates of those who do what's right and good, and those who run in the opposite direction.