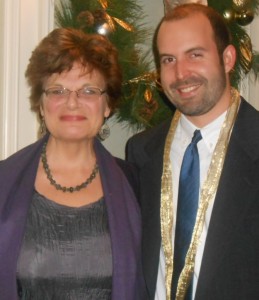 Daniel Castro is shown here with author Moira Crone who selected him to win the Faulkner Society's gold medal for novella in 2012.
Daniel Castro, winner of the Faulkner Society's 2015 Gold Medal for Best Novel, was born and raised in New Orleans and is a graduate of New Orleans Center for Creative Arts, Riverfront, and the Iowa Writers' Workshop, and his work has appeared in the Miami Herald, the Tampa Review, and The Double Dealer.  The Pirate's Alley Faulkner Society awarded him its Gold Medal for Best Novella in 2012 for his manuscript Inspection, selected by fiction writer, Moira Crone, and shortly thereafter he was awarded the highly prestigious  CINTAS fellowship in literature, which carries a $10,000.0 prize. Since then, Castro, who was encouraged by the Society and others to expand his novella to novel length, has been doing just that. Daniel took his prize monies and went to Hungary, where it is very inexpensive to live, and spent a year there finishing the novel. He entered his novel draft to the 2015 William Faulkner – William Wisdom Creative Competition and was selected by author Elise Blackwell to receive the 2015 Gold Medal for Best Novel, now titled, The Colonel's Son.  He will participate as a faculty member in 2015, interviewing Tea Obreht and Moira Crone on stage.
Moira Crone had this to say about Daniel's work when she awarded him the gold medal for Novella:
Inspection describes a very flawed man, Jacinto Ferrer, who stumbles into a catastrophe that requires him to confront his life, including all the compromises he has made, and his sins of commission and omission over the years. He is invited, by extraordinary situations, to engage with the possibility of a new way of being. The circumstances of the "inspection"—both exotic and utterly believable. From the very first sentence we know two things: that this is a Katrina tale, and one we have not heard before. The author has followed the advice, "Tell the truth but tell it slant." It's a story about what Katrina did to everyone, in fact, told through the persona of a most idiosyncratic and convincing character. Though thoroughly unique in some respects, the story is also clear, and universal.
Elise Blackwell has this to say about The Colonel's Son:

The grandson of a Salvadoran hero flies to New Orleans to inspect an iguana farm and, perhaps, to re-establish a relationship with his now-American brother. I admire the complexity of the main character—a man with a deep knowledge and love of animals who is also overly proud and not above taking a bribe—as well as the richness of the novel's observations about both people and place. While the book plays with some of the figures of classic spy thrillers, the secrets Rafael Montero ultimately discovers are not about cloaks and daggers but rather family and the human heart. I also appreciated this novel's fresh depiction of airport hotels, suburban malls, fast-food restaurants, and other parts of New Orleans generally ignored by the film industry.