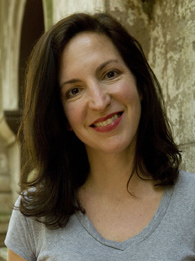 Elise Blackwell, Author of the New Novel:
The Lower Quarter
About the Author
Elise Blackwell is the author of five novels: Hunger, The Unnatural History of Cypress Parish, Grub, An Unfinished Score, and The Lower Quarter. Her work has been translated into several languages, and her books have been named to numerous best-of-the-year lists, adapted for the stage, and served as the inspiration for a Decemberists' song. Originally from southern Louisiana, Elise now lives in Columbia, SC with her husband, the novelist David Bajo, and their daughter, Esme. Elise is a Professor of Writing in the MFA program at the University of South Carolina and directs the university's highly successful program for writers and readers, The Open Book, which annually attracts some
of the world's best writers as presenters.
About the Book
The Lower Quarter is set in the hurricane-ravaged City of New Orleans. The discovery of a mysterious body reopens the investigation into a long-missing European painting, causing four lives to intersect and be forever altered. This beautifully woven literary noir is a provocative meditation on both the art of power and the power of art.
Praise for The Lower Quarter
A man arrives in post-Katrina New Orleans, looking to solve the mystery of a missing painting and a related murder. What he finds is nothing less than love, sacrifice, survival, genius, depravity, and hope… In this novel, Blackwell has created a vibrant amalgamation of mystery, classic noir, erotica, and ekphrasis. The novel's greatest strength is how it imbues both the loftiest and the seediest moments with grandeur and pathos without being overwrought or overwritten. An artful, gritty love story, eulogy, and survivor narrative for the city of New Orleans post-Katrina.
—Kirkus (starred review)
Read the entire review here:
https://www.kirkusreviews.com/book-reviews/elise-blackwell/the-lower-quarter/
The Lower Quarter is a beautifully written book. Elise Blackwell's work has always been intelligent, nuanced, and finely wrought, but The Lower Quarter is her best novel yet: a mesmerizing story of art, resilience, and life after catastrophe.
—Emily St. John Mandel
The Lower Quarter is noir at its noirest best: dark, fast-paced, sexily exciting, and beautifully written. Pick it up and I dare you to try putting it down.
—Benjamin Black (The mystery series pen name of Book Prize winner
John Banville)
A deft and vivid portrait of post-Katrina New Orleans, The Lower Quarter flirts along the edges of noir, gets its feet wet, and then returns to offer us the satisfactions of vivid characters complexly and convincingly drawn. This book is about what happens if you pay attention to the real story instead of just reading the tabloid headlines.
–Brian Evenson
A bedazzling southern noir set in post-Katrina New Orleans, The Lower Quarter catches us up in the tangled paths of four individuals, each haunted by a brutal past. While expertly unraveling her characters' intertwining stories, Elise Blackwell in her highly atmospheric new novel powerfully conveys the endlessly destructive legacy of violence and the redemptive beauty of art.
—Jenny McPhee
In Elise Blackwell's new novel The Lower Quarter, place comes alive as it all too rarely seems to in fiction or for that matter any other genre. Every time I put the book down for a few minutes, I had to look around and get my bearings, because I'd been in another world. The characters here are every bit as real as their environment, and I became absorbed in their lives. My admiration for this beguiling book and its talented author is unqualified.
—Steve Yarbrough
Blackwell is a sure-handed writer who leads the reader through the plot like a skilled guide showing someone the best path through a dense forest. You won't get lost. And you won't fail to understand the central themes of revenge and redemption. Just as New Orleans is seeking to heal from Katrina, these people in the French Quarter are looking to heal their own wounds.
—New Orleans Advocate
The authenticity of Blackwell's New Orleans experience is clear on every page, from the bars the characters frequent to the sense of a city rebuilding itself … will grip readers and keep them turning pages.
—Publishers Weekly