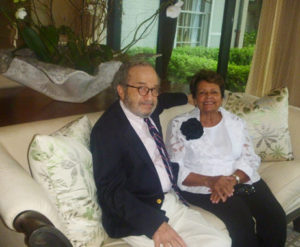 Joseph DeSalvo, Co-Founder of the Faulkner Society and Faulkner House Books, is shown here with former New Orleans First Lady Sybil Morial at Juleps in June.
About the Book Lover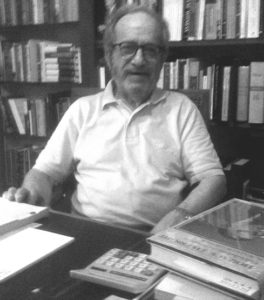 Joseph J. DeSalvo, Jr., a native New Orleanian, is a retired attorney, who spent most of his adult life as in-house counsel for Exxon. Today, he is owner of Faulkner House Books, located in the actual room that was William Faulkner's, when the Nobel Laureate was writing his first novel, Soldiers' Pay in 1925. A lifelong collector of books, Joe dreamed of having a book store as a retirement occupation.  When the Faulkner House, 624 Pirate's Alley in the French Quarter, came on the market in 1988, DeSalvo and his wife, Rosemary James, decided this was the best possible place for a small bookstore devoted to good contemporary literature and rate books. The bought the house in 1988 and Rosemary supervised a two-year, total renovation of the four-story building converting to a ground floor book store and office for Joe,  and a private residence above. the DeSalvos invited everyone they new to "The First Annual Meeting of the Pirate's Alley Faulkner Society," a program at Le Petit Theatre du Vieux Carre toasting William Faulkner on his birthday, September 25, 1990, followed by a block party in the alley to celebrate opening of Faulkner House Books. The idea of the First Annual Meeting was a promotional idea but people came, had a good time and the Faulkner Society was born with the help of Faulkner expert W. Kenneth Holditch and others. The Society now impacts the lives of some 6,500 to 7,000 people annually with its various projects for writers, readers, and those at risk for illiteracy.
Meanwhile, Faulkner House Books, has become one of the best-know, best-loved bookstores in the world.
And, recently, Joe has begun writing a blog attached to the Faulkner House Books Facebook Page on such subjects as James Boswell and Samuel Johnson and other famous literary
figures and the blog has developed quite a devoted following. Recently, Joe has been completely absorbed in a personal study of St. Augustine, one of the great minds of
civilization and, pretty soon now, you can expect to see a blog by Joe on St. Augustine.