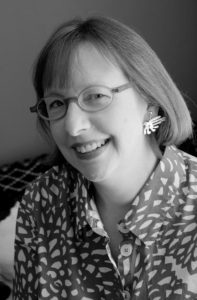 Photograph by Dennis Cowley
Winner, National Book Award for Three Junes
About the Author
In an interview with journalist Meryl Gordon shortly after she won the National Book Award for her carefully crafted three-part novel, Three Junes in 2002, Julia Glass had this to say:
            Virginia Woolf was wrong. You do not need a room of your own to write.
Glass at the time was living a "cheerfully disordered life in this less-than-700-square-foot space with a closet-size kitchen and two small rooms," which she shared with photographer Dennis Cowley and their two young sons. It was something of a reproach to all who fantasize that they, too, could write the Great American Novel if only they had free time, a terrific ergonomic chair, and a private room without distractions.
Glass was a late-bloomer, 46, when she won the award and Deb Garrison, the Pantheon editor who bought the winning book and shepherded it through publication, had this to say about Julia then: "Julia is incredibly brave. To be a first novelist in your 40s, writing without a book contract and no steady income, to just say, 'This is what I have to be doing.'" Julia was driven " to write about how we live our lives after heartbreak that's incurable." Ane Glass has mined her own painful experiences for material. "In our lives, heartbreak begins to accumulate. Things happen and you realize, I'm never going to get over this. How do you go on?"
And, today, 12 years later Julia remains best described as Bob Shacochis, who poured through some 300-plus entries for the National Book Award Competition, put it: "Julia Glass is an update on those wonderful writers from the 19th century that we admire so much, like Jane Austen and the Brontë sisters…. It was like choosing a 25-year-old single-malt whiskey."
Her next three books followed each other in quick succession, with the novel The Whole World Over in 2007, the story collection I See You Everywhere in 2009, and the novel The Widower's Tale in 2011. Her most recent novel, And The Dark Sacred Night, was published in 2015.
Today, she and Dennis have more space, living in Marblehead, MA, where Julia is truly in her element.  Surrounded by its atmosphere of early American history, she's back to her roots. (Her ancestors came over on the Mayflower.) Her work is still anti-hip, anti-cool, tackling head on the "old verities and truths of the heart," as recurring themes in her work.
And dedicated readers cannot help but find a connection to Julia through these truths.
For more on Julia, see the profile/interview in the 2015-2016 edition of The Double Dealer in the section, On Writers and Writing.

Julia Glass, left, is shown here arriving for  Words & Music several years ago, greeted by Faulkner Society co-founder Joe DeSalvo and author Susan Dodd, who originally selected Julia to win the Society's gold medal for Best Novella.