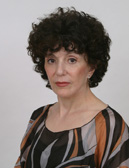 Patty Friedmann's new book, An Organized Panic, is rich with the kind of insider humor that New Orleanians adore.They observe the antics of other and cackle or, as Friedmann does, they write about both their own and the visitors who come to town. This book will challenge you to think about your own belief system. It opens our conversation about religion with a finely drawn character, the sympathetic atheist narrator. Here are a couple of review blurbs that are on point:

Lip-smackingly irreverent. If you have to deal with pious relatives, you will love Cesca's triumph over her sanctimonious brother. Reading Friedmann is not like reading anyone else. 
—Dan Barker, co-president, Freedom From Religion Foundation
Her ability to create believable characters about whom the reader cares is stellar. Even the lawyers who represent
the Price siblings in their dispute are real people. Readers won't be able to put down this engrossing read until
the final page.              
—Andrea Kempf, Library Journal
Like a mischievous taxidermist, Friedmann uses death as a backdrop to taunt the living with her unblinking wit.

—
 J
ohnny Rosenthal, screenwriter, Bad Santa 2
Patty's other books include two released in late 2010: a young adult novel called Taken Away and a literary e-novel titled Too Jewish, which was among the debut titles of the e-publishing venture, booksBnimble, created by New Orleans mystery writer Julie Smith.  She also is the author of six darkly comic literary novels set in New Orleans: The Exact Image of Mother, Eleanor Rushing, Odds, Secondhand Smoke, Side Effects, and A Little Bit Ruined as well as the non-fiction humor book Too Smart to Be Rich. Her novels have been chosen as Discover Great New Writers, Original Voices, and Book Sense 76 selections, and her humor book was syndicated by the New York Times. She has published reviews, essays, and short stories in Publishers Weekly, Newsweek, Oxford American, Speakeasy, Horn Gallery, Short Story, LA LIT, Brightleaf, New Orleans Review, and The Times-Picayune and in anthologies The Great New American Writers Cookbook, Above Ground, Christmas Stories from Louisiana, My New Orleans, New Orleans Noir, and Life in the Wake. Her stage pieces have been part of Native Tongues. Oxford American listed Secondhand Smoke with 29 titles that included Gone With the Wind, Deliverance, and A Lesson Before Dying as the Greatest Underrated Southern Books. With interruptions only for education and natural disasters, she always has lived in New Orleans.
And in a City which prizes, the extraordinary…
…Patty Friedman is a legend in her own time.